When you're young, it's easy to think about growing up and moving away from home on the quest for your own identity. Whether it's going away for school or pursuing your dream job, even if you do end up leaving home, the odds are you'll never really be far from certain members of the family.
According to a 2015 study by The New York Times, the average American lives just 18 miles away from their mother, and in certain parts of the country (including Southern states like Alabama and Tennessee), that average is considerably lower.
But with over 107 million people traveling for the year-end holidays in 2017, even if you do live close to Mom, she's likely not the only member of the family you'll feel obligated to visit for a gift exchange. So how far are we willing to travel to break bread with our in-laws, which dinner conversations have us reaching for spiked eggnog the fastest, and how long will those out-of-town guests be staying? Whether you're hosting or being hosted, read on for the unfiltered opinions of over 1,000 people on whether more really is merrier when it comes to spending time with family.
Distance Makes the Heart Grow Fonder?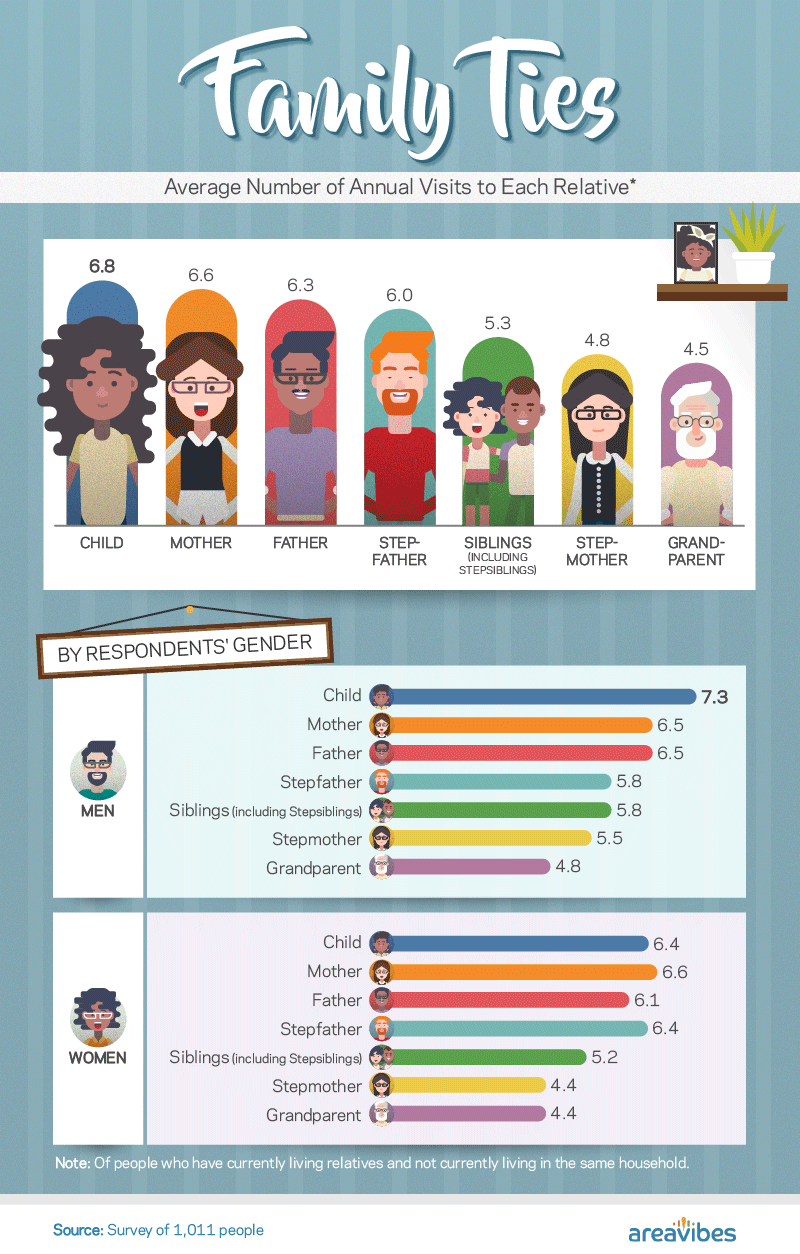 The gentle tug of nostalgia and the warm, fuzzy feeling of making new memories with far-away family are great reasons for visiting relatives, but not every get-together is destined to be merry and bright. In reality, spending time with family can be a stressful experience for some people, and it might leave you more inclined to postpone the trip than extend your stay.
It's been said that becoming a parent changes a person, and when it comes to spending time with family, that priority shift is clear. For both men and women, the number of annual trips spent visiting family was highest for visits to children who no longer lived at home. Moreso for men (7.3 trips) than women (6.4 trips), most people spend more time each year visiting their kids than their parents or siblings by far.
And while men were more inclined to visit their fathers (6.5 trips) than women (6.1 trips) over the course of the year, one group got the shortest end of the stick: grandparents. Even though there are benefits for both young and old to spending time with Grandma and Grandpa, we found people visited their grandparents less than five times a year on average.
Pass the Wine, Please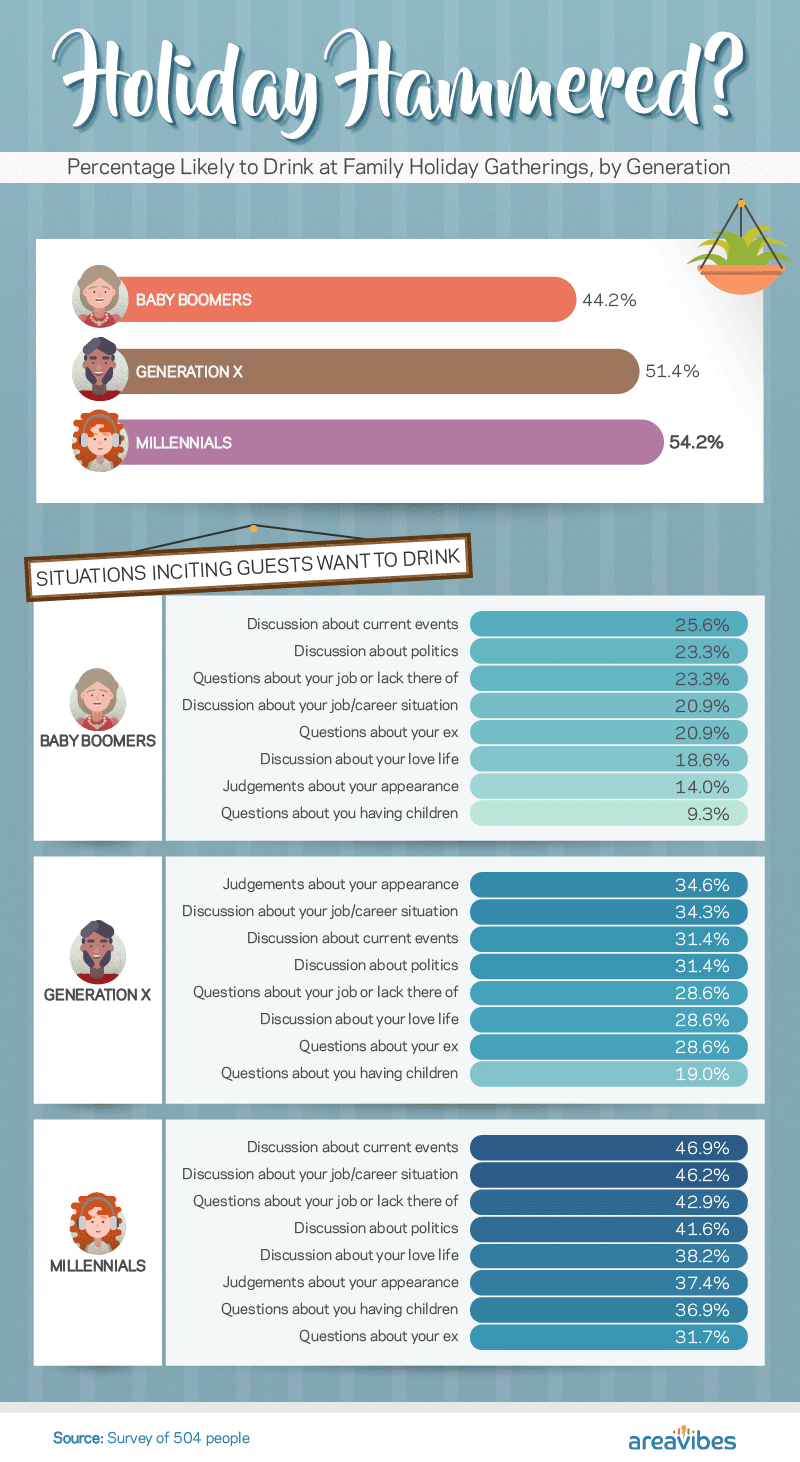 Having to navigate your nosey aunt's invasive questions about your personal life or narrowly avoiding hearing another version of your grandfather's "when I was young" story is one thing, but for some, the most uncomfortable part of a family gathering is the dinner table conversation you can't escape.
You may try to bite your tongue or quickly change the subject, but disengaging won't always be an option, and you could find yourself in the middle of a heated debate. When all else fails, some grab a drink to try and drown out the awkwardness of being asked about an ex or the president's latest Tweets.
Even though the most drink-inducing topics of conversation were similar across all three generations, we found millennials were more likely to be triggered by certain debates than Gen Xers or baby boomers. Compared to less than 26 percent of baby boomers and 31 percent of Gen X respondents, nearly 47 percent of millennials admitted to wanting something strong to drink when current events came up around family.
And unlike older and younger respondents who said politics and employment were more likely to be the most incendiary points of discussion, close to 35 percent of Gen Xers said judgments about their personal appearance were more likely to drive them to drink than anything else.
Long-Distance Relationships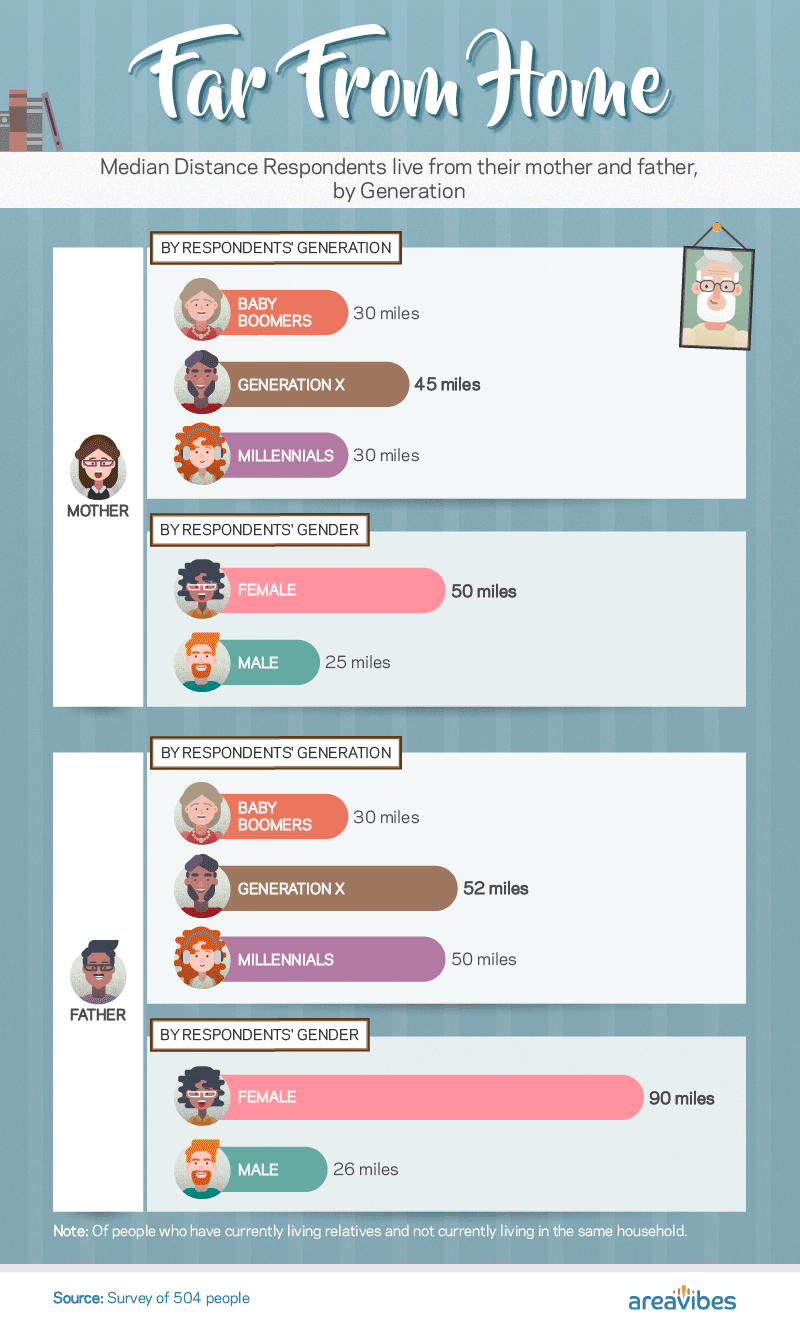 It's often said that "distance makes the heart grow fonder," but that might not necessarily be true when it comes to people we love. Instead, research suggests regular periods of absence make it harder to connect emotionally.
In instances where their parents were separated or not living in the same house, we found people of all ages were more likely to live in close proximity to their mothers than their fathers. For baby boomers, the distance was shortest overall (30 miles away to either their mothers or fathers), while Generation Xers lived an average of 15 to 22 miles further away from either of their parents.
Short and Sweet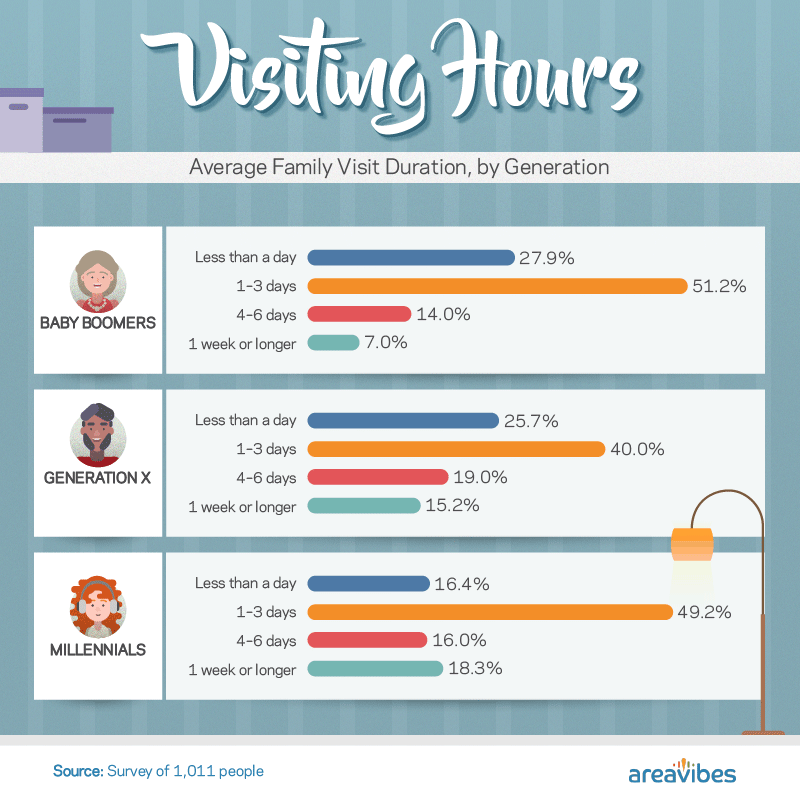 If you've got family coming to visit for the holidays, some might have a natural tendency to stay longer than others.
Letting your relatives know they've overstayed their welcome can be a tricky conversation to navigate, but you likely won't have that awkward talk with your grandparents or older family members: Nearly 28 percent of baby boomers said they only visited for less than a day on family trips, and another half stayed just three days at most.
While you might have a Gen X relative who's likely to crash for longer (more than 1 in 3 stayed for four days or more on average), it's millennials who will take up space on your couch the longest: Only 16 percent visited family for less than one day, and while another 16 percent made their trips last between four and six days, we found more than 18 percent of millennials turned family visits into a weeklong (or longer) affair.
Sleeping Arrangements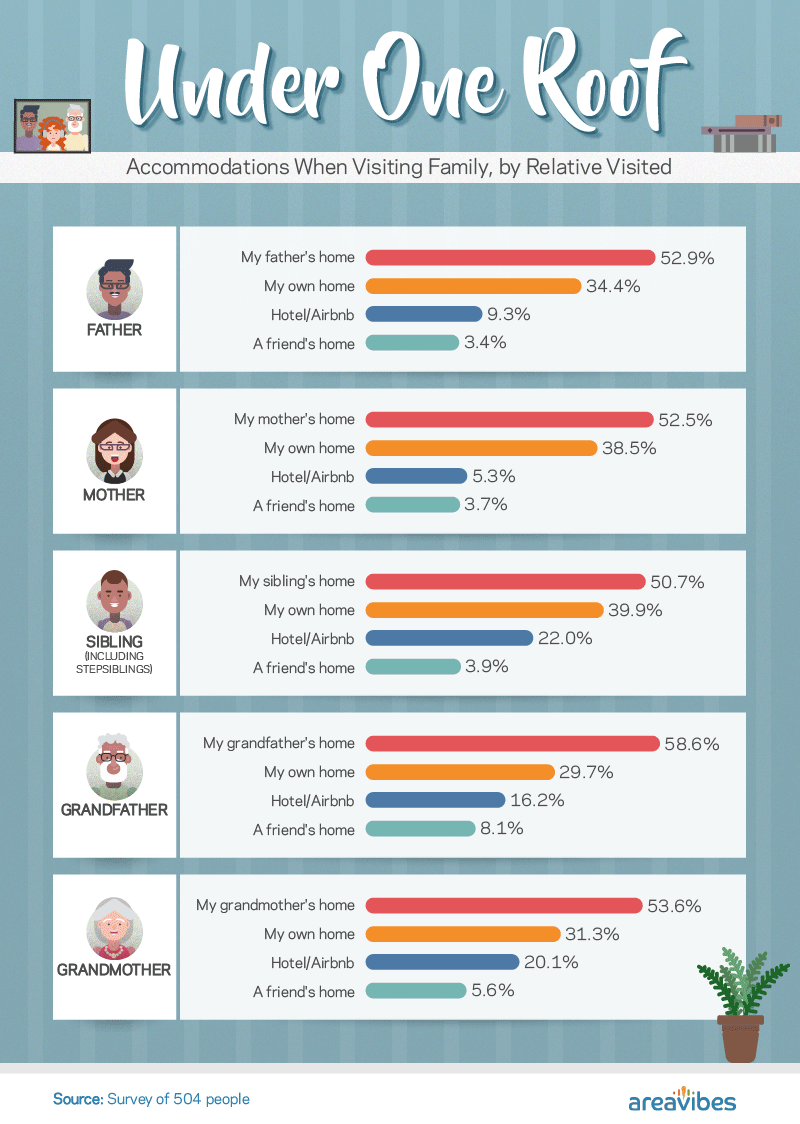 When you're staying with your parents, inviting yourself into their house for a family weekend might be perfectly normal. But if you're visiting other relatives this year, sometimes it's more appropriate to make other arrangements.
More than 52 percent of people visiting their mother or father said they chose to stay with them for the event, and between 34 and 39 percent said they lived close enough to sleep in their own homes instead. More than any other relative, 22 percent of people opted for a hotel or Airbnb when visiting their siblings for family get togethers. Brothers and sisters shouldn't take it too personally though. Nearly as many (20 percent) said the same about visiting their grandmothers, too.
Arriving Prepared
Whether you live 15 miles away from your closest relatives or are several full gas tanks away, there are plenty of variables to consider before planning your next family event.
In addition to aggressively monitoring dinner table chatter for uncomfortable conversations or wondering how long your second cousins will be staying with you, sometimes you have to decide if sleeping under the same roof is a good idea or if you should make other plans instead. If it's your sibling's turn to host Christmas dinner this year, you might feel inclined to pursue the latter. But remember, even the closest-knit families could benefit from some quality bonding.
Sources
Methodology and Limitations
To gather the data presented in the above assets, two separate surveys asked different questions relating to the physical and emotional distance of family members, how much it takes for respondents to travel to see family for the holidays, and how we feel about certain topics being discussed by family members. The first survey had 1,011 respondents, of which 45.6 percent were female, 44.5 percent were male, and 9.9 percent did not specify a gender. Generationally, the survey was comprised of 5.4 percent baby boomers, 27.1 percent from Generation X, 55.6 percent millennials, and 11.6 percent from an unknown generation or one outside those offered. Generational and gendered data were not presented for those whose generation or gender was not known.
The second survey we gathered data from was made up of 56 percent women, 43.7 percent men, and 0.40 percent who chose to identify as neither. Generationally, the survey was comprised of 11.9 percent baby boomers, 26.6 percent Generation X, 59.7 percent millennials, and 1.8 percent from generations outside of those.
The data presented above rely on self-report, which can be host to issues like telescoping or exaggeration. Attention checks were used throughout each survey to ensure respondents were paying attention and answering carefully rather than randomly.
Fair Use Statement
Want to pass around the findings of this study? We welcome the sharing of any content or related graphics from this research for any noncommercial use. We won't make you stay for dessert, but we do ask that you include a link back to this page so our contributors earn credit for their work too.