If you've never been to Florida yourself (and maybe even if you have) and images of castles and fairytale princesses don't immediately spring to mind when thinking about the Sunshine State, you're probably thinking about one of the most well-known inside jokes ever: Florida Man.
While it may have initially started as a viral headline or an internet meme, the "Florida Man" archetype has evolved into one of the most widely circulated stereotypes about people living anywhere in the United States. A larger-than-life caricature of what it's like to live in this southern state, you might assume the average Florida Man is likely to be arrested over a cheesesteak dispute, name a machete "Kindness" and threaten people with it, or even try to escape the police on horseback – all of which were real headlines in 2019.
Florida may be home to one of the most widely recognized parodies of what people expect it's like to live there, but it isn't the only state that draws an instant, unavoidable assumption (it turns out it's not even the first thing people equated with Florida). Want to know what the rest of the country thinks about your state? Read on as we investigate the most common assumptions over 1,000 people have about the cuisine, residents, and culture in parts of America they may know nothing about.
Regional Assumptions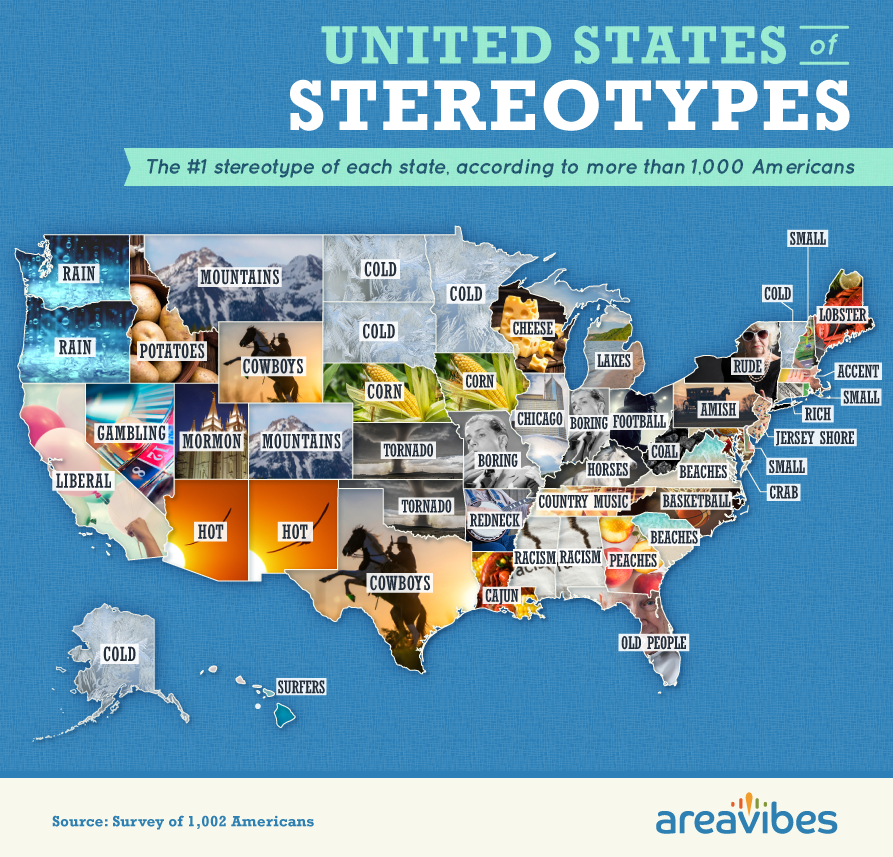 Sure, some stereotypes about people and places can create dangerous assumptions that are unfounded in reality. But as we found, the presumptions Americans have about many states can be traced back to some of their more unique weather patterns and occurrences.
According to our respondents, the Pacific Northwest (including both Oregon and Washington) are known for just one thing: rain. Not famous coffee brands or Bill Gates, it was gray skies and sometimes constant rainfall that came to mind for Americans when asked about either Washington or Oregon. We found several other states were stereotyped for their unique climates, including Arizona and New Mexico ("hot"), Minnesota and North and South Dakota ("cold"), and Oklahoma and Kansas ("tornadoes").
If you aren't going to be known for the weather, you might as well be stereotyped by the food you eat. In Idaho, Americans identified potatoes as the most common assumption about the area. Not unjustified, farmers in the state of Idaho harvest roughly 320,000 acres of potatoes every year (or 13 billion pounds). Other states known for their edible vibes? Nebraska and Iowa (corn), Wisconsin (cheese), Maine (lobster), and Georgia (peaches).
For some states, the most popular stereotypes have nothing to do with the weather or the food they eat. According to the Americans we surveyed, the most common assumption about California is that the state is liberal. Left-leaning policies may be an expectation in the Golden State, but residents in California may be just as likely to identify as conservative as they do liberal. And while Nevada is known for gambling, and Florida is known for "old people," we found people from New York were the most likely to be stereotyped as simply "rude."
You Are What You Eat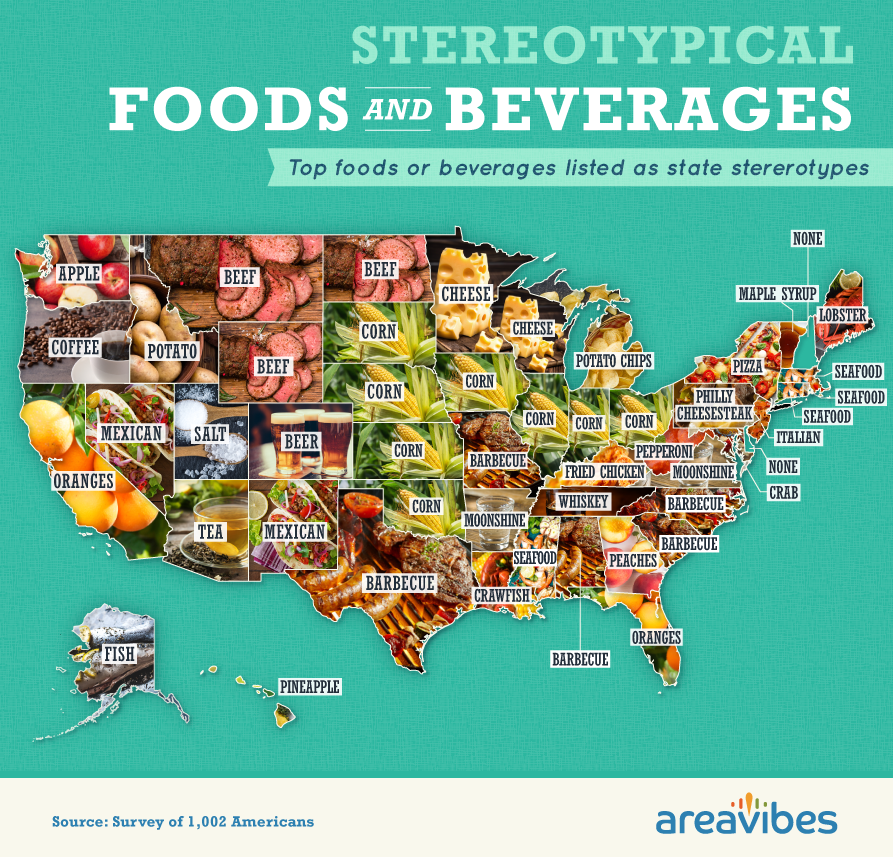 There's an old saying, "You are what you eat;" and while the words might not hold literal meaning, there's at least some belief that our favorite foods do provide some commentary on our personalities. If you love sour candy, you might be naturally anxious. If you put hot sauce on everything, you might also be an adrenaline junkie. As we found, depending on where you live in the U.S., you might be more commonly associated with certain foods and drinks as well.
In America, you can get delicious Mexican food anywhere from San Francisco to Chicago, but only two states, New Mexico and Nevada, are actually stereotyped by Mexican food. In Arizona, we found tea was the most common food or beverage association (perhaps as a result of the popular Arizona Tea, based out of New York), and in Kentucky, the stereotype was about fried chicken. In eight different states – including Nebraska and Iowa – you might be known more for growing corn than any other food group, not unlike the association of oranges with Florida or California.
Not surprisingly, several states in different regions were stereotyped for barbecue consumption. Including Texas, Alabama, Missouri, and both North and South Carolina, barbecue isn't just a popular southern delicacy: It can have vastly different characteristics depending on which state you're in. In Texas, slow-cooking is a popular barbecue style, and while North Carolina is known for a vinegar-based barbecue sauce, you can expect a slightly sweeter, mustard-based zing in your South Carolina cooking.
Northern Stereotypes
The most crowded region in the continental U.S., the Northeast has beaches, coastlines, cityscapes, and charming neighborhoods as part of its allure. Historical significance in the Northeast and its millions of visitors every year aside, states like New York and Massachusetts may have a slightly different reputation according to Americans we polled.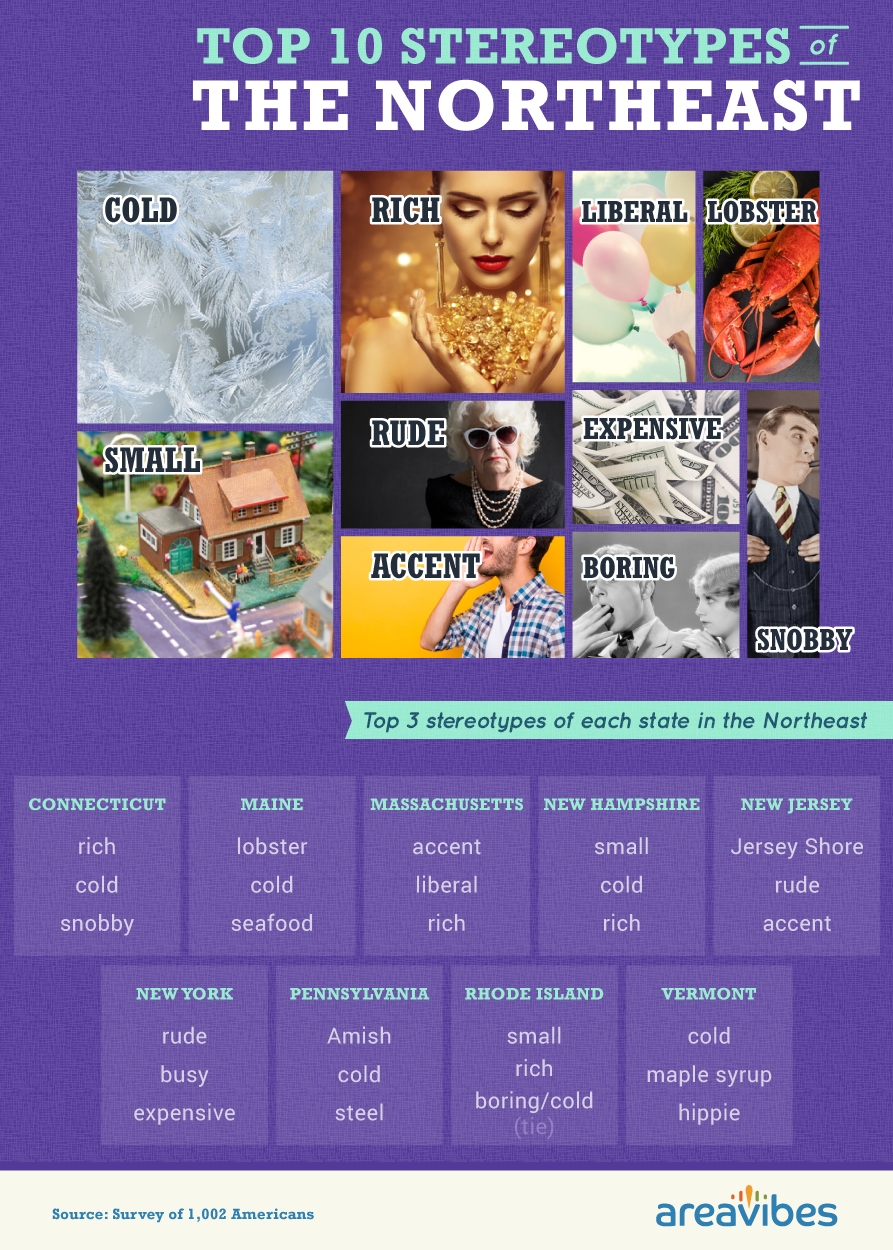 More than anything else, states in the Northeast were stereotyped for three things: being cold, being small, and being rich. During the winter months, assuming the Northeast is cold isn't just a safe bet, it might be an understatement. In 2019, record-breaking low temperatures blanketed parts of New England in ice and snow, even freezing parts of Niagara Falls.
Other popular observations about people from the Northeast included that they were rude, had an accent, and were often liberal.
Midwestern Stereotypes
Often referred to as "flyover country," certain parts of the Midwest are famed more for their rural, uninhabited nature than anything else. Of course, millions of people live in the states spanning from Iowa and Nebraska to North and South Dakota, and it's possible they wish you knew more about their homeland.
Like the Northeast, the Midwest is most commonly stereotyped for its cold weather; and, just like the Northeast, that assumption may not be inaccurate. Just because the Great Plains of the U.S. aren't immune to record heat waves in the summer doesn't mean they don't see their fair share of ice and snow in the winter. Like the cold, the Midwest is also stereotyped for farmland, corn, being boring, and being flat. While there might be more to the Midwest than vast, open cornfields, the area is also referred to as the Corn Belt of America and accounts for more than 90 million acres dedicated solely to this single crop.
Spend a few weeks in the southern part of the United States and you can do almost anything. From hiking through the Great Smoky Mountains and eating peanut butter and banana sandwiches at Graceland to attending the Kentucky Derby or visiting the Everglades; there's almost no shortage of diversity in southern areas ranging from Tennessee to Florida.
Southern Stereotypes
Instead, stereotypes of the South primarily included racism, rednecks, country music, and hot weather. Firsthand accounts of the area suggest there may at least be some truth to the assumption that southerners are more inclined to racial profiling, though not everyone who lives in the area can be correctly classified as a "cowboy."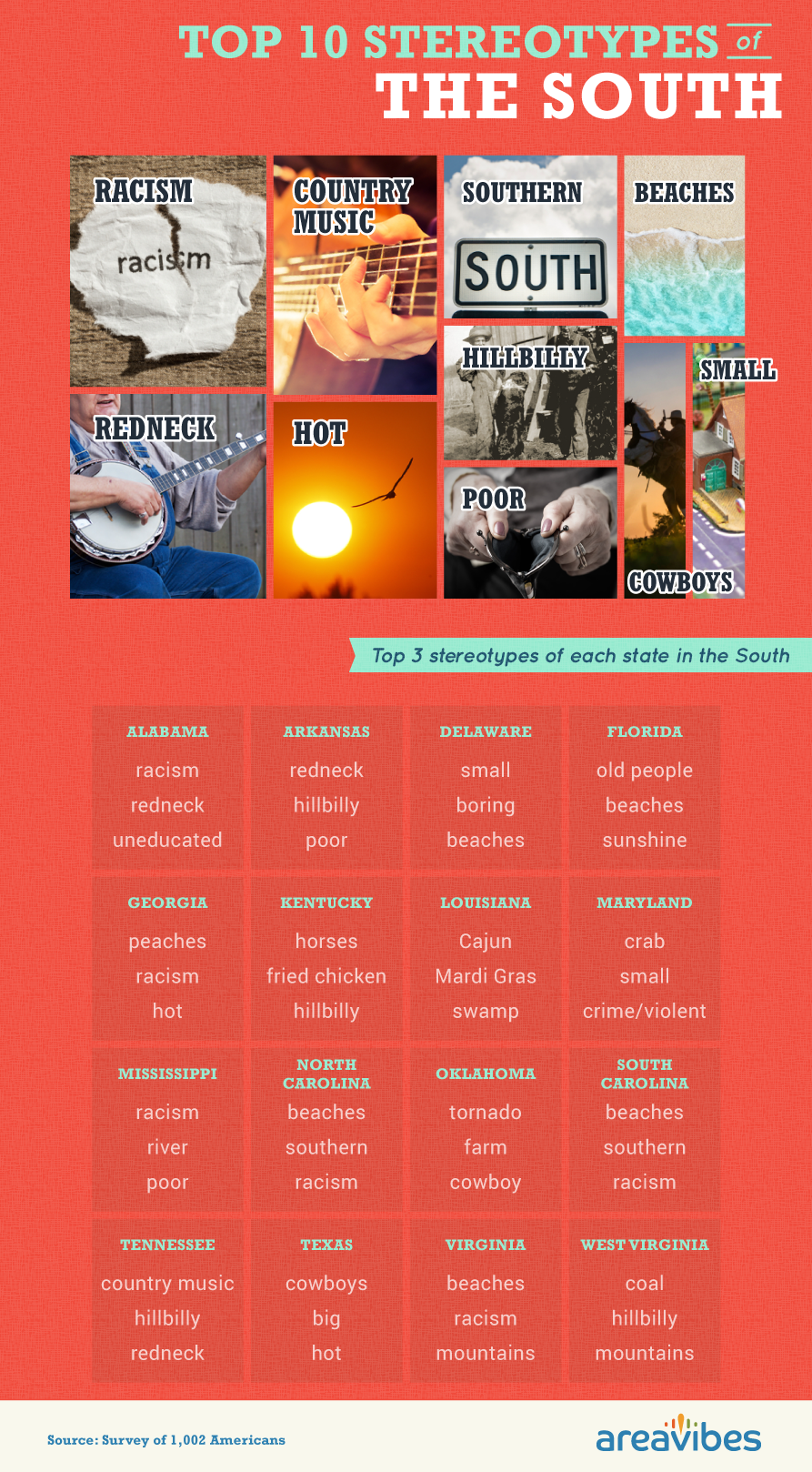 Western Stereotypes
If you're visiting the West Coast, don't be surprised when you aren't entirely sure what kind of clothes to pack for the trip. In just a few miles, you could travel from the deserts of Nevada to the highlands of Northern California and on to the wetlands of the Pacific Northwest.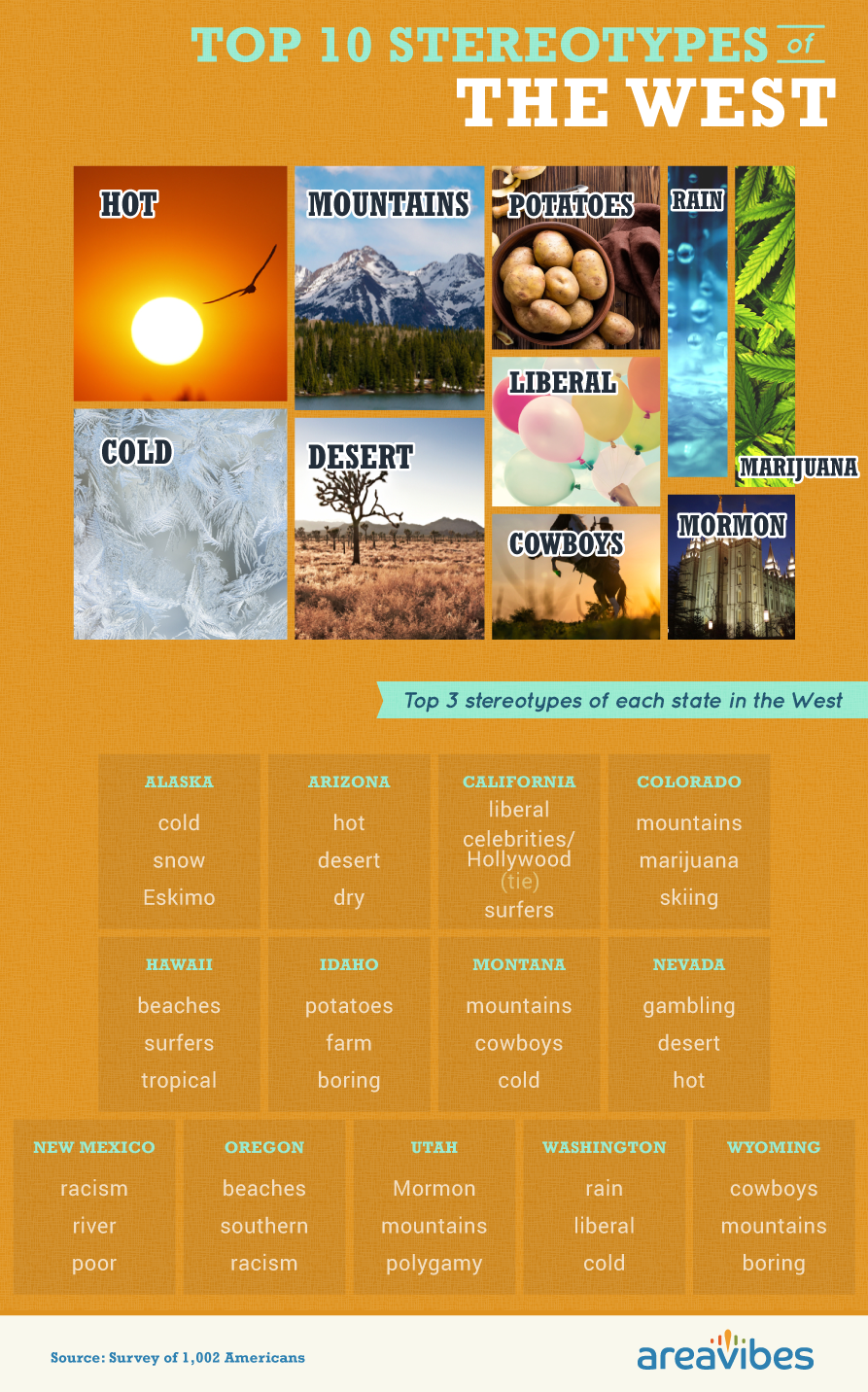 The two most popular stereotypes about the West were simply "hot" and "cold," followed by mountains, desert, potato, liberal, and rain. Many states along the West Coast are divided into multiple climate zones over very small distances, a weather characteristic unique to the area.
The Most Popular Stereotypes
Want to know what people really think about your state? Here you can see the three most popular stereotypes we gathered from more than 1,000 Americans on states from California to Florida and New York. Click through to see which states are known for being rude, which are known for crime, and which are known more for food than anything else.
Most Common Characteristics
Travel outside of the U.S. and you might find a few prevailing stereotypes stick out more than others when it comes to what outsiders think of America. Known for being fiercely patriotic, obsessed with their work, and potentially less familiar with cultures and languages that aren't their own, many of the stereotypes about Americans can be boiled down to specific states rather than the country at large.
Along with older people and beaches, Florida ranked as the state most commonly associated with Disney World, crazy people, and alligators. Sports were also popular, with football being stereotyped in Ohio, basketball in North Carolina, and skiing in Colorado. As the first state to legalize marijuana for recreational use, Colorado was also the state most likely to be stereotyped for weed. And while people in Connecticut might deal with the stereotype of being rich and snobby, we found most Americans associated poverty with Mississippi.
Beyond the Stereotypes
No matter how well you think you know a place or the people who live there, we're all guilty of stereotyping from time to time. And while some assumptions are less rooted in fact than others, we found many of the stereotypes Americans had about states within their own country were based largely on the weather and food. It may not always be cold in New England or the Midwest, but it's not incorrect to assume it gets that way in the winter. Similarly, lobsters aren't a rarity in Maine, not unlike potatoes in Idaho or corn in Iowa.
Methodology and Limitations
To compile the data shown above, we surveyed 1,002 people about their stereotypes of each state. Each person received 10 states and was asked to state the three stereotypes they thought of first when thinking of each state listed. Responses were then formatted for consistency and grouped wherever possible. While we made an effort to understand the context and spelling of each answer, it is possible that not all answers were considered or grouped based on what the respondent intended.
This piece is solely for entertainment purposes, though it is based on real data. The data were not statistically tested, nor was this peer-reviewed, though we did make every effort to portray the data accurately and fairly.
Sources
Fair Use Statement
Are your readers guilty of some of these common assumptions and stereotypes? Share the results of this study for any noncommercial use, including the graphics and finings. We won't make any presumptions about your story, but we do ask that you include a link back to this page as acknowledgment of our contributors and their hard work on this project.