If you could do one thing today to help fight off depression, lower your blood pressure, decrease your risk of cancer, and be generally happier, would you do it?
You don't have to look much further than a day at the park or a walk around your neighborhood to reap these impressive health benefits. In fact, parks and playgrounds offer as many benefits to the social health of local communities as they do to the people who spend time there. Additionally, playgrounds help build children's brains more quickly and can provide physical activity and stress-free interaction for people of all ages.
Considering the perks of spending time at the local park, we wanted to find out where the best outdoor recreation centers are across the country using data from the City Park Facts Report, ParkScore® from the Trust for Public Land, and the Census Bureau. Read on as we break down which cities and states have the most public sports facilities, playgrounds, and dog parks and where you can find the best outdoor amenities. Continue reading to learn more.
More Than Slides and Monkey Bars
The word "amenities" may conjure images of room service in a hotel or a complimentary beverage on a flight. When we talk about amenities at your local park or recreation center, we have something slightly different in mind.
In this image, you can see a list of some of the most common outdoor amenities we'll be discussing throughout this report and a short description of each one. Explore them here before continuing below.
A Commitment to the Community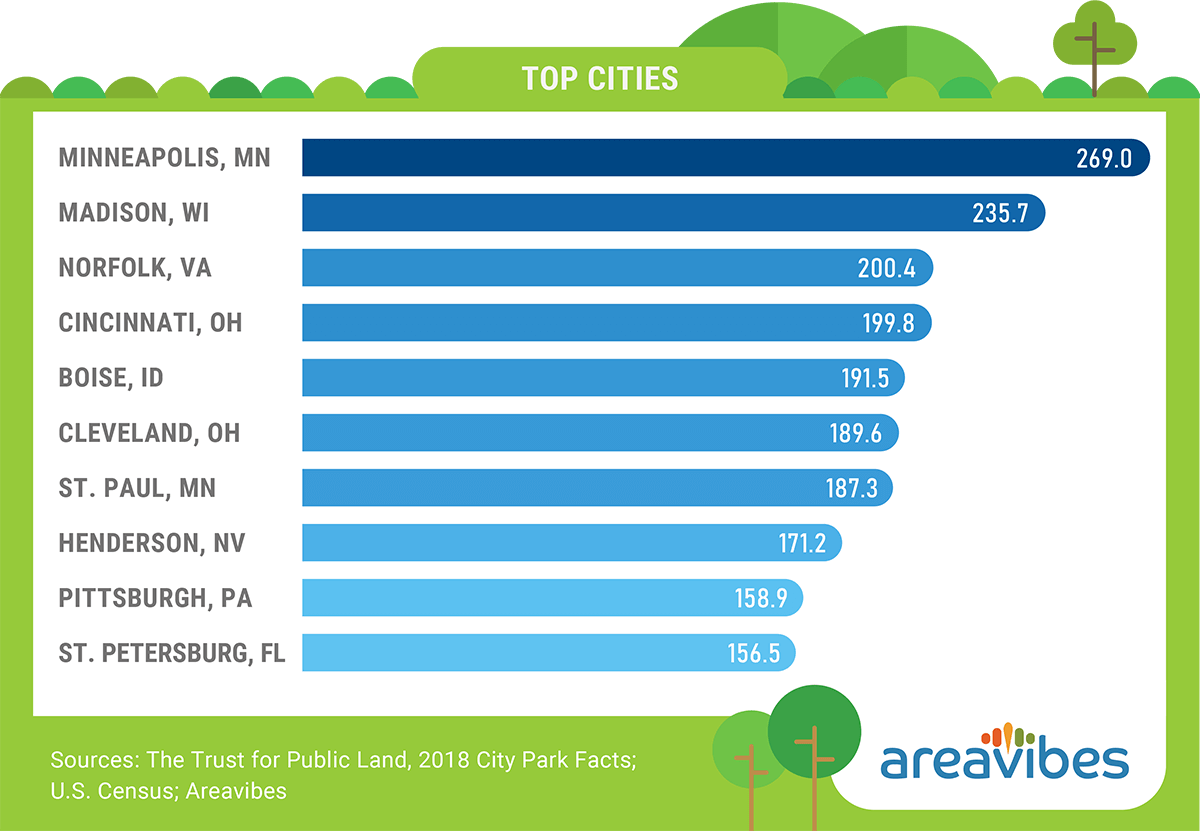 According to the National Recreation and Park Association, parks and recreation services are often a key factor in determining a neighborhood's livability. Whether it's packing up a picnic basket for an outdoor lunch or going on a family scavenger hunt, an afternoon at the park is a chance to disconnect from the hustle and bustle of daily life. With a bit of planning, outdoor recreation can be healthy and engaging for both children and adults.
Minneapolis, Minnesota, had more park amenities and outdoor recreation spaces per 10,000 residents than any other city in the country. With 269 municipal park amenities per capita, Minneapolis has a Livability Score of 62 according to AreaVibes. In fact, residents can take advantage of a history lesson at Gold Medal Park, giant-size art at the Sculpture Garden, or hike at Minnehaha Regional Park.
Following Minneapolis, we found the most free amenities in Madison, Wisconsin (almost 236 for every 10,000 residents); Norfolk, Virginia (around 200); and Cincinnati, Ohio (nearly 200).
Best Parks for Each Sport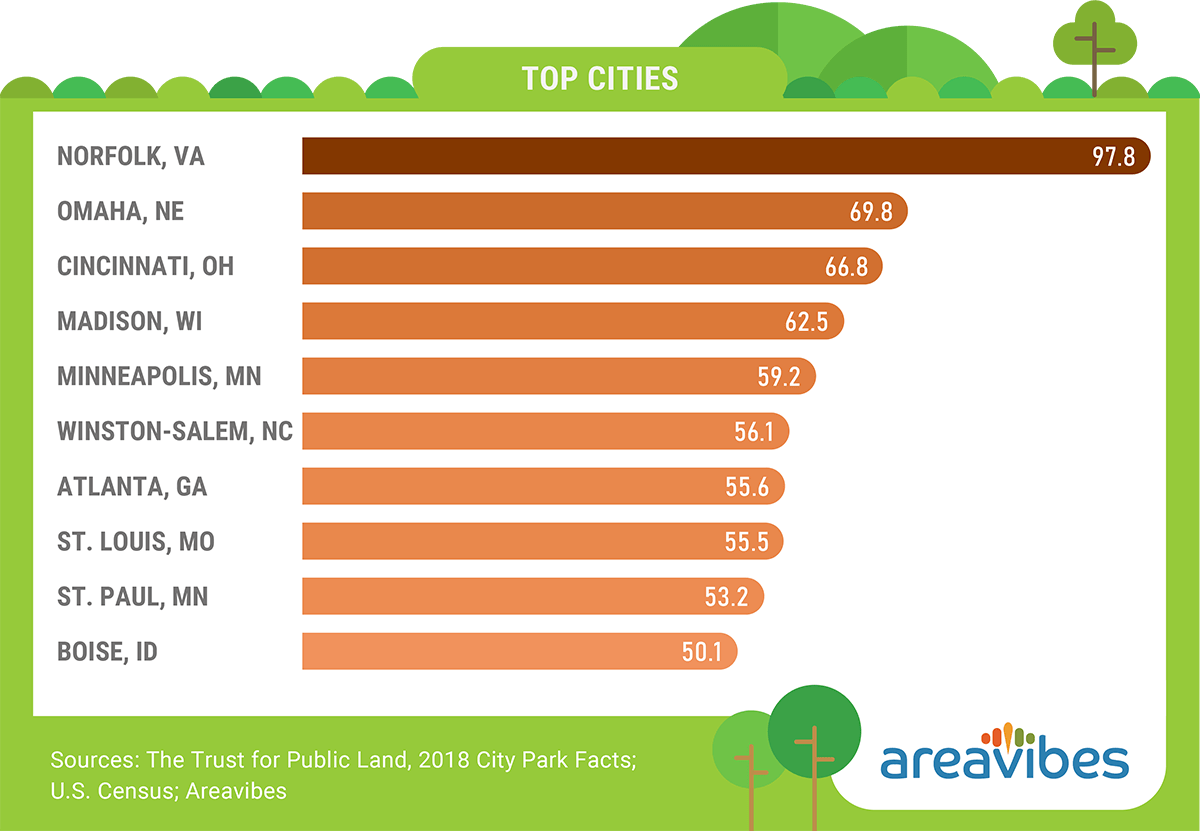 Organized sports offer plenty of health benefits to both kids and adults. In addition to routine physical exercise, playing sports may help people focus better, follow instructions more clearly, and learn new ways to collaborate with others. Additionally, research shows that investing in updated sports facilities can have a positive impact on the community, including creating a space for groups to gather and generating revenue for cities.
Norfolk, Virginia, which also earned a Livability Score of 68, took the top spot for public sports facilities with nearly 98 per 10,000 residents. Additionally, Norfolk had the most basketball courts (over 28) and took second place for its number of tennis courts (58). Omaha, Nebraska, had almost 70 public sports facilities for every 10,000 residents, and Cincinnati, Ohio (with a Livability Score of 68), ranked third with nearly 67 public athletic areas per capita.
St. Paul, Minnesota, may not have picked up a spot among the top five cities for sports facilities, but with more than five baseball diamonds per capita, St. Paul has certainly embraced America's favorite pastime.
Room to Run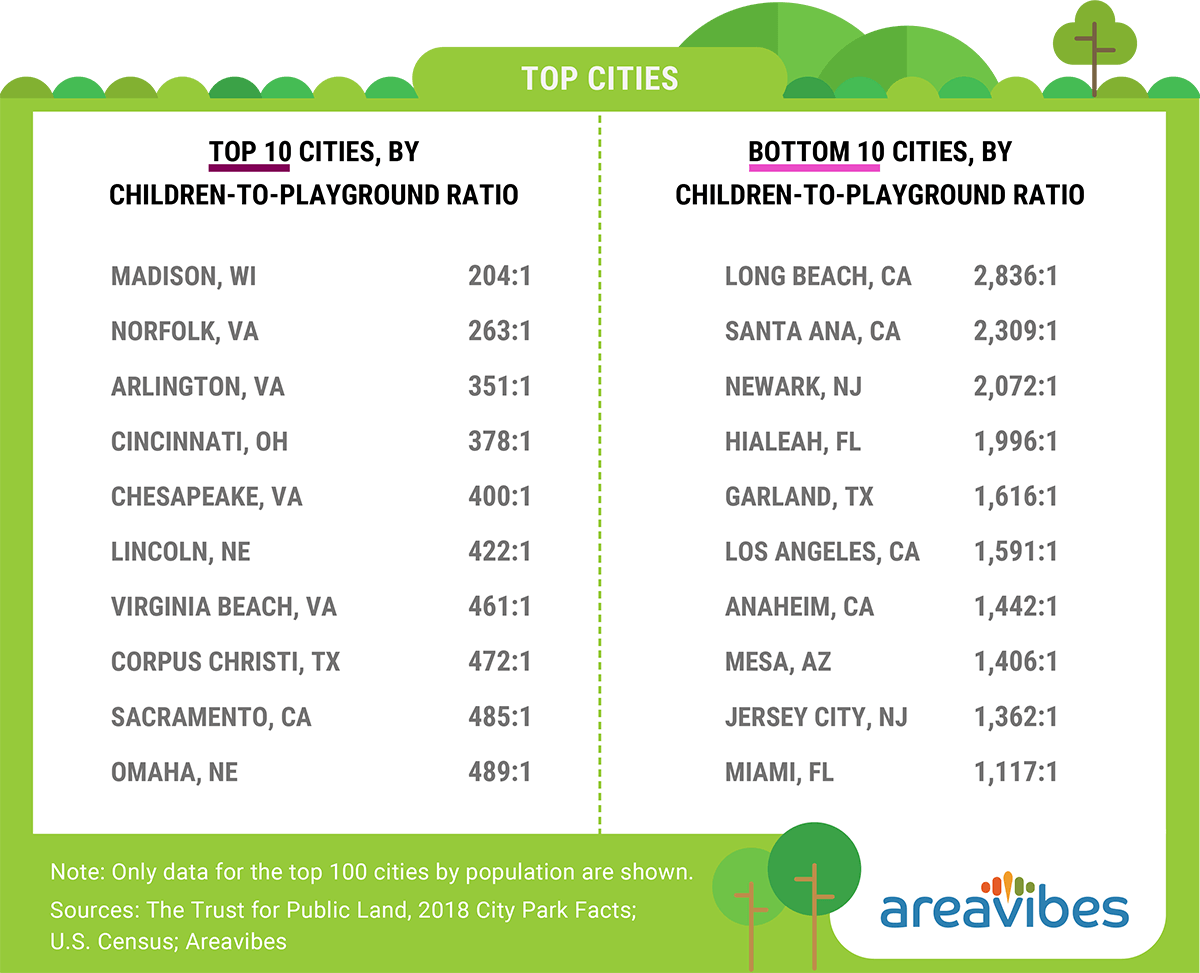 Whether you're looking to enjoy a nice afternoon breeze or want to get the kids out of the house, there are physical and emotional benefits to spending time at the playground for young children. Climbing the jungle gym or learning how the monkey bars work helps children imitate and process imaginative thought and may even help them process difficult emotions or trauma. Kids who go outside to play also become active participants in their physical activity.
With a ratio of 204 children to each park, Madison, Wisconsin, had the highest number of playgrounds per 10,000 residents. Other cities with a similar distribution of playground facilities per child included Norfolk, Virginia (263:1); Arlington, Virginia (351:1); and Cincinnati, Ohio (378:1).
At the lower end of the fireman pole, Long Beach, California(2,836:1), had the fewest number of playgrounds per capita, followed by Santa Ana, California (2,309:1), and Newark, New Jersey (2,072:1).
Pets And Their Parks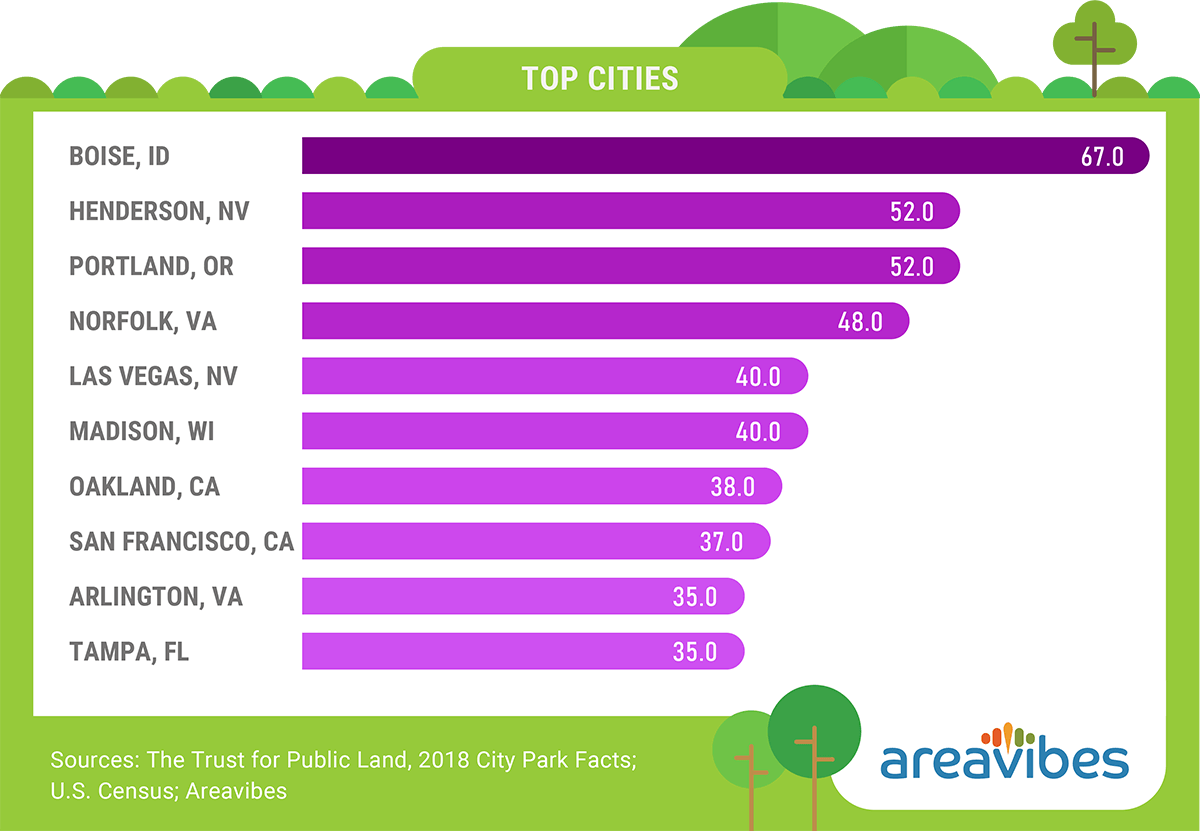 Getting outside will help control weight, reduce boredom and depression, and provide vitamin D from the direct sunshine. Experts suggest dogs rely as much on fresh air and outdoor activities as their owners do, and dog parks are often an excellent source of both mental stimulation and socialization.
Most people only want the best for their pets, and these cities offer the highest number of options for letting Fido run free with all of his furry friends. In Boise, Idaho (with a Livability Score of 80), there are 67 dog parks per 10,000 residents. Henderson, Nevada, and Portland, Oregon (52 dog parks per capita apiece), also ranked among the highest number of park spaces designed for dogs, followed by Norfolk, Virginia (48).
Something for Everyone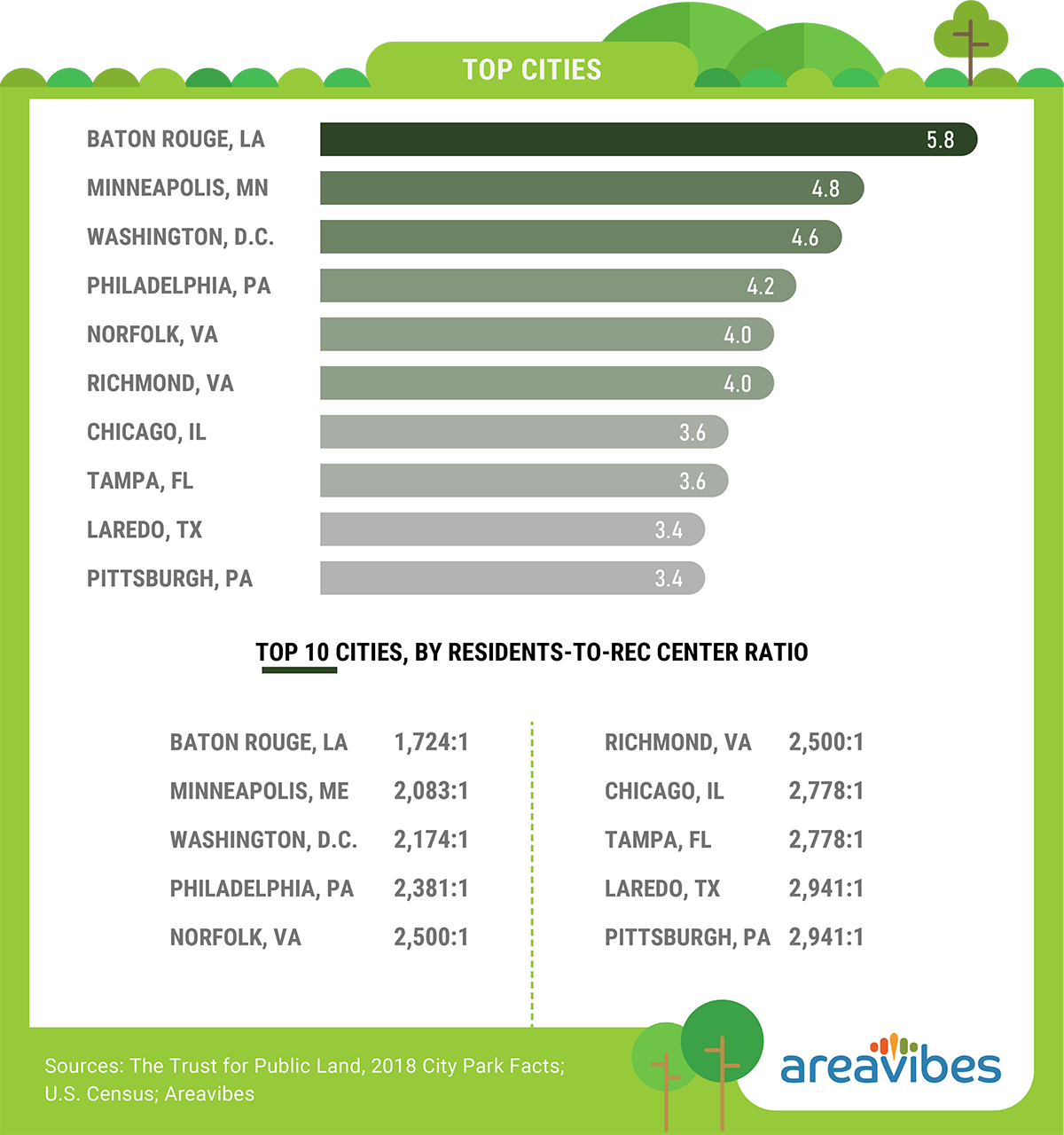 At their core, parks and recreational centers provide a forum for people to connect over their shared passions. For children, that passion may be swingsets and seesaws, while adults might look for parks that offer amenities related to their favorite sports. For senior citizens, recreation and wellness centers offer the same community approach to staying active. Where exercises range from coordinated dance to intellectual workouts and learning opportunities, senior centers often play an important role in the communities they serve.
In Baton Rouge, Louisiana, we found nearly six senior/recreational centers for every 10,000 residents. Recreation centers in Baton Rouge offered residents a ratio of 1,724:1. Other cities with high numbers of senior and/or recreational centers included Minneapolis (4.8 recreation centers per capita), Washington, D.C. (4.6), and Philadelphia (4.2).
The Money Factor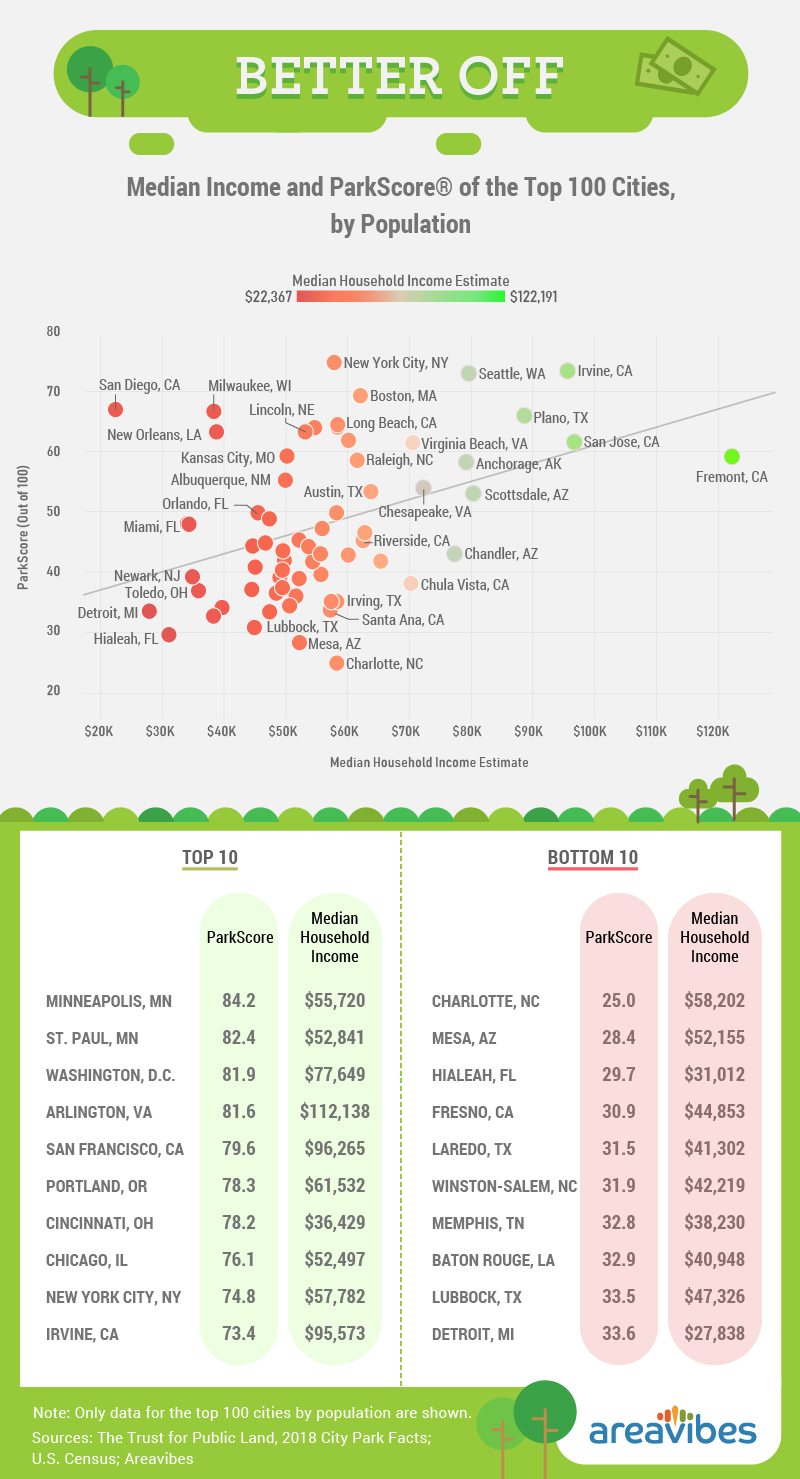 Despite the numerous health benefits attributed to parks and the amount of time we spend outside, some of the best free amenities are more readily available to communities with a higher median household income. While parks and recreation centers provide positive physical and mental stimulation to the people who use them, these facilities often struggle to procure the appropriate funding to be maintained properly. As demand continues to rise, public funding has become more scarce.
Among cities where the median household income was at or below $60,000, parks and recreational facilities mostly skewed a below-average ParkScore® (based on the number of free amenities they offer). In cities including Aurora, Colorado; Plano, Texas; and Irvine, California; higher median incomes may correlate to above average park quality and accessibility.
What Matters Most
Spending time outside, whether you're reading a book in the sun or playing a game of basketball with your neighbors, can provide plenty of health benefits! Being at the park can help fight depression and anxiety, reduce inflammation, lower blood pressure, and help improve your ability to focus throughout the day. In addition to social health for the community, many public parks offer people of all ages a chance to get outdoors and enjoy nature a little more! As we found, certain amenities (like golf courses and recreation centers) were more common in some parts of the country, and cities with higher median household incomes were often more likely to score better based on their amenities.
Methodology and Limitations
The data presented in the above study come from a combination of the following: figures from the latest City Park Facts Report from the Trust for Public Land, ParkScore® from the Trust for Public Land, and the Census Bureau ACS 5-year estimates. Information regarding the number of each public amenity type provided by each of the top 100 cities by population comes from the Trust for Public Land.
Data about population and income were taken from the latest census report, and the numbers were adjusted for inflation in 2017 dollars by the census. For the ratios of children to playgrounds, a "child" was deemed to be 0 to 14 years old.
The "amenities" offered by parks are those listed under "facilities data" in the Trust for Public Land City Park Facts spreadsheet. Not all amenities are represented in the project due to the sample size offered in the data set.
Sources
Fair Use Statement
Ready to play, or want to show your readers which cities house the best parks? We encourage you to share the results of this study and any related graphics for any noncommercial use. We only ask that you please make sure to include a link back to this page in your story so your readers can see the full extent of our study and analysis.