With over 300 million daily active users and 4.2 billion likes every day, Instagram is one of the most popular social media platforms around.
Celebrities, just like the rest of us, often showcase parts of their lives not otherwise seen in magazines or tabloids. While followers are often affectionate toward them, celebrities also attract online haters.
From Adele to Kendall Jenner (and the rest of the Kardashian clan), you either love 'em or hate 'em. We studied some of the most popular celebrities on Instagram to determine how people really feel toward them, who's the most hated, and where in America these celebrities are geotagging their candid shots. Want to know who tops our list? Continue reading to find out.
Love 'Em or Hate 'Em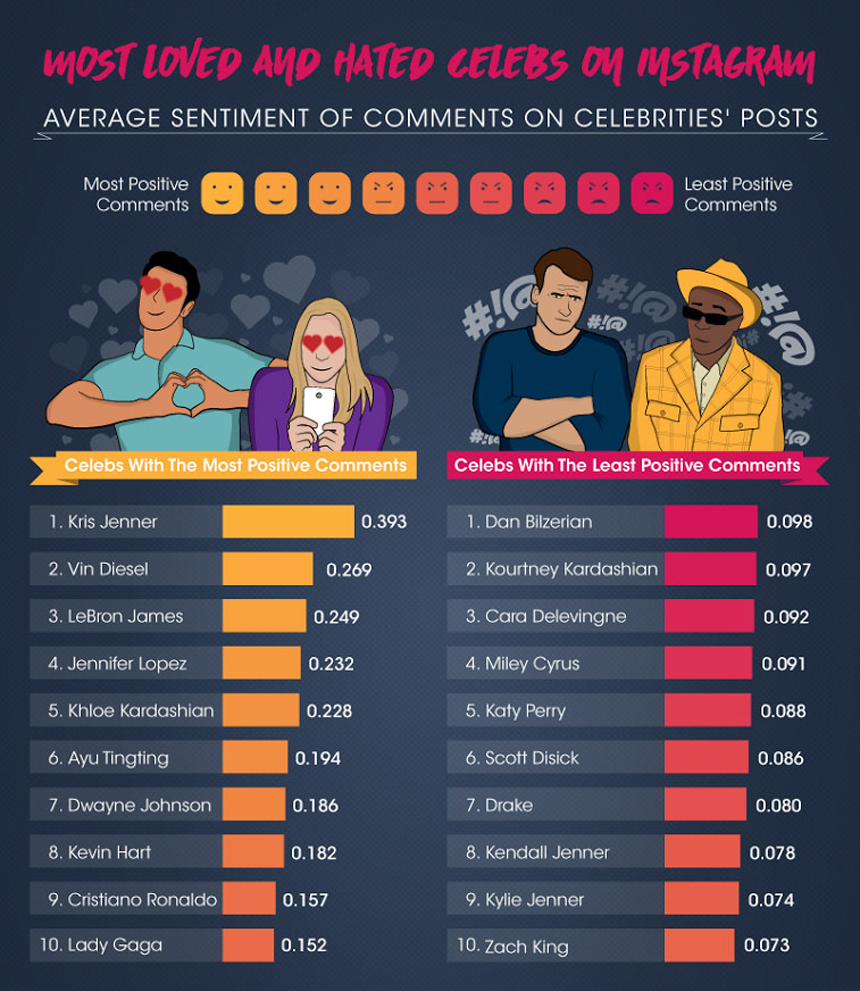 For the rich and famous, haters are everywhere. That's why celebrities – regardless of their industry – have to learn to bob and weave with their critics. For some, that's easier said than done.
To assign sentiment scores to some of the most popular personalities on Instagram today, we combed through top 100 Instagram accounts to see the number of likes they typically amass and the nature of comments that are usually left on their posts. The higher the sentiment scores means the more positive comments there are about them, while the lower the score means there's more people being critical in their writing.
It turns out, Kris Jenner had the highest sentiment score on Instagram of any celebrity we looked at (0.393) – even surpassing daughter Khloé Kardashian (0.228). Unfortunately, two Kardashian clan members, Kourtney Kardashian and Kylie Jenner, did not receive as positive of a reception, with sentiment scores of 0.097 and 0.074, respectively. However, if these scores seem particularly low, consider the number of requests for follows, retweets, and spam ads that often fill the comments section of highly followed celebrities.
"Anchor of three action franchises," Vin Diesel is also feeling the love on the picture-posting app. He had a sentiment score of 0.269. Whether followers are eagerly awaiting his reprised role as the lovable Groot in "Guardians of the Galaxy 2" or as stoic Dom Toretto in "The Fate of the Furious," this charming actor is sunning in the spotlight. When it comes to the haters, Dan Bilzerian – famous for a 5-second clip of a woman stroking his beard at the "2013 World Series of Poker" – seems unfazed by low opinions that fill his screen. While he received a sentiment score of 0.098, Bilzerian has been crowned the "King of Instagram" by faithful fans. A quick glance at his account shows women, firearms, and souped-up rides are a few of his favorite things.
In poor company with him are Cara Delevingne (0.092), Miley Cyrus (0.091), and Katy Perry (0.088).
Celebrities With the Most Love on Instagram

While power rankings on Instagram are always in flux, 24-year-old singer Selena Gomez currently has the highest average number of likes per photo. Her 116 million followers are doing more than scrolling past her posts, considering she accrues almost 2.5 million likes on each of her photos (which sometimes feature fellow celebrities like Taylor Swift and Jaden Smith).
Professional Argentinian footballer Lionel Messi comes behind Selena Gomez. With nearly 68 million followers, Messi's photos pull in about 1.9 million likes on average. At the same time, Taylor Swift is virtually neck and neck with Kendall Jenner (around 1.5 million likes per post, respectively). Jenner once had the all-time most liked photo on Instagram.
Despite earning the top spot for her sentiment score, Kris Jenner's posts average under 150,000 likes each.
Where is Snoop Dogg?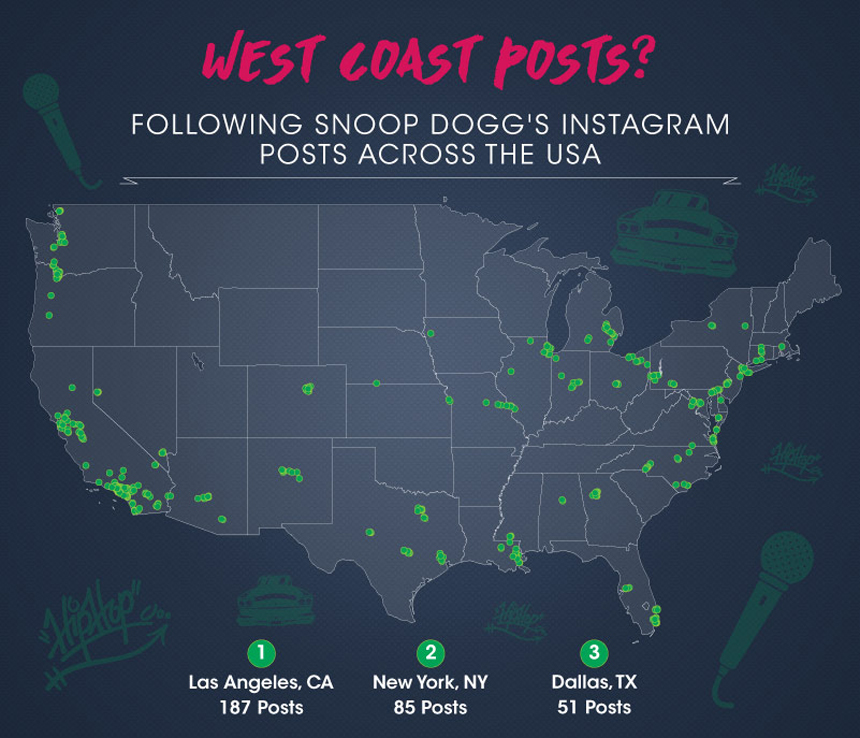 Evidently, there's almost nowhere in America rapper and entrepreneur titan Snoop Dogg hasn't been (and posted about). He is notably present in West Coast states like California, Oregon, and Washington – where marijuana is legal for medicinal and recreational use. Considering there are a few snapshots in Denver and Aurora, Colorado, Snoop may have a personal affection for states that have a similar attitude toward marijuana. As Nevada, Maine, and Massachusetts begin enacting their newly passed laws on recreational marijuana usage, they may get a few more visits from the Dogg himself.
Other states Snoop Dogg has been and shared via Instagram include Texas, Florida, and Illinois.
Hello ... Is Adele There?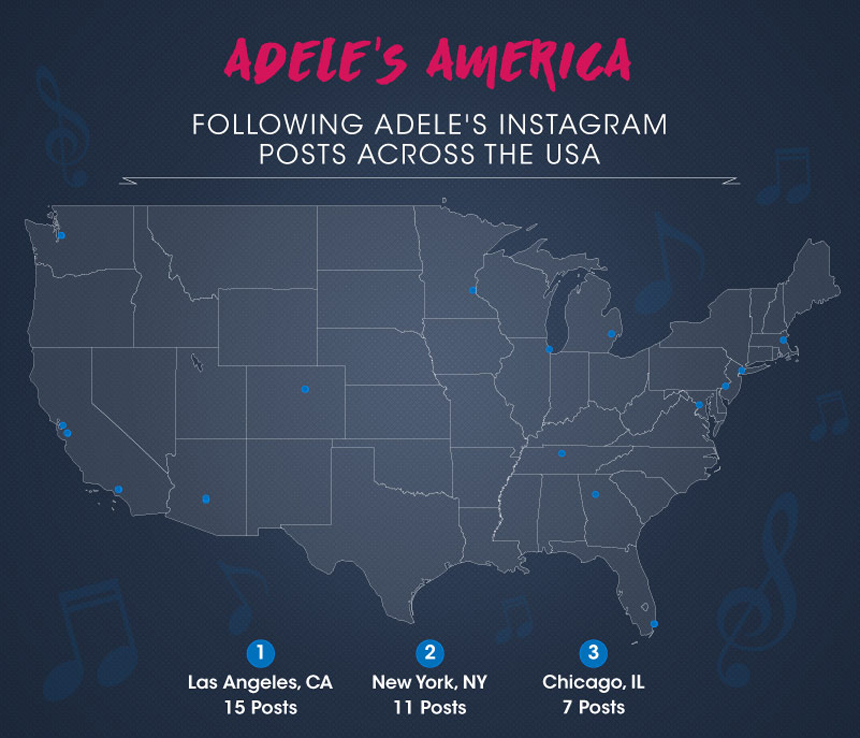 Having just finished a 10-month U.S. tour with 107 shows, Adele has been very busy this year.
Her Instagram account even reads like entries in a journal over the last several months. From posing with a sombrero (in Mexico City, of course) to showing a natural-looking face to singing in full glam in front of thousands of adoring fans, Adele's Instagram account is uniquely her own.
Her photos are tagged in Nashville, Tennessee; New York City, New York; Phoenix, Arizona; and Philadelphia, Pennsylvania – large stops on her concert tour this year.
Where is Dan Bilzerian Partying?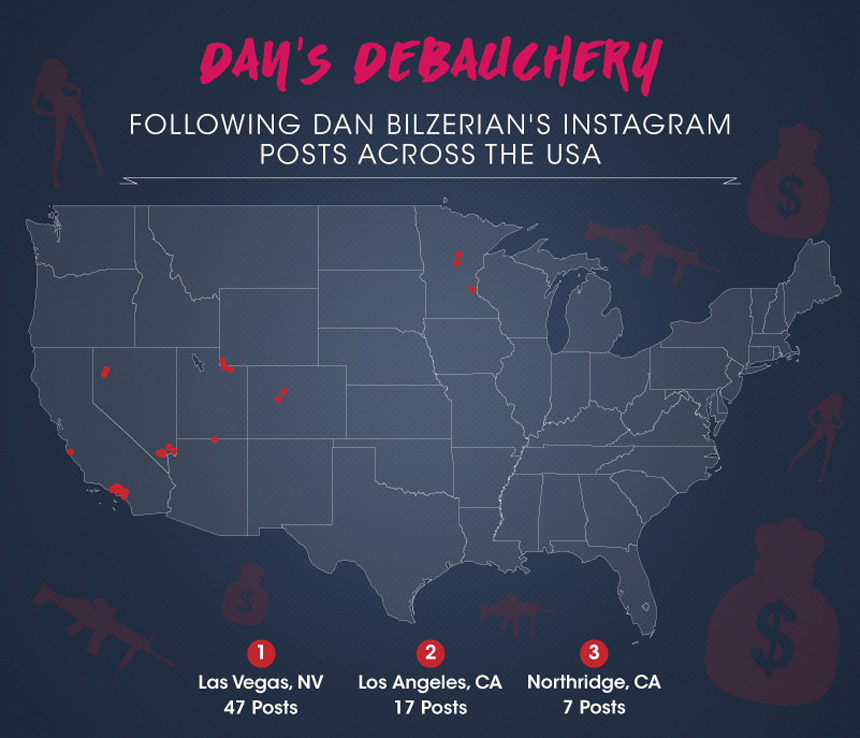 Professional party boy and poker player Dan Bilzerian isn't known for his subtle Instagram shots. In fact, his posts are anything but subtle.
With more than 20 million followers, Dan "Blitz" Bilzerian lives a life of luxury most only dream about. While other celebrities may have a similar net worth, nothing beats Bilzerian's taste in extravagant niceties and seemingly endless vacations.
Largely, he seems to spend his time in different areas of Southern California (particularly Malibu, Los Angeles, and Newport Beach) and Las Vegas, Nevada. Other areas in Utah and Colorado – and as far north as Minnesota – are also tagged in his many lavish photos. Bilzerian either doesn't make it to the East Coast very often or just prefers not to post while he's there.
Conclusion
Even the rich and famous on Instagram have to deal with haters. While some celebrities (like Adele) seem more universally loved – others, like Luis Suárez, are more universally hated. Even celebrities who get the most likes on their posts aren't necessarily loved by everyone. Love them or hate them, these celebs are traveling the country and sharing their exploits from city to city online.
Whether you're an online personality who got lucky playing a few rounds of poker or a seven-time Grammy winner, traveling across the country is one of the perks of the job. We can't all be that lucky, though. If you're looking for some of the best places to live in America, let AreaVibes show you the Livability Score of any address or zip code in the nation. Created from a unique algorithm that takes important factors into consideration, AreaVibes can help you find the best local amenities, cost of living, and weather for your lifestyle. Visit us online today to learn more.
Methodology
We looked through the Top 100 Instagrammers and after excluding businesses we scraped every single one of the profile "Likes" by InstaGrammers to determine the average number of likes per post. We also scraped their comments and put this Data through TextBlob to determine the sentiment of those comments. For the maps, we obtained the geo-data from Instagram Posts and placed them where the few celebrities that add geo-data to their Instagram Posts.
Sources
Fair Use Statement
To all who may wish to share the material found here in part or in whole, we welcome you to do so. We do, however, ask that if you decide to use any information we've researched or the images we've made to please link back here so that those involved in it's creation can be acknowledged for their work properly.