Marriage is a huge decision for anyone. Finding the right partner often takes time and effort. Naturally, many components make a successful marriage, and one of them is geography. That's right; where you live can play a significant role in marriage as seen in our mapping of marriage trends across the U.S.
We combed through piles of data using the U.S. Census Bureau's stats from the American Community Survey, as well as the Centers for Disease Control and Prevention's (CDC) state-specific data on marriage. That's a ton of information, and we think you'll be intrigued by the findings.
State Marriage Trends
At first glance, you might think marriage trends would be similar across states, but like other things, there are stark geographical differences.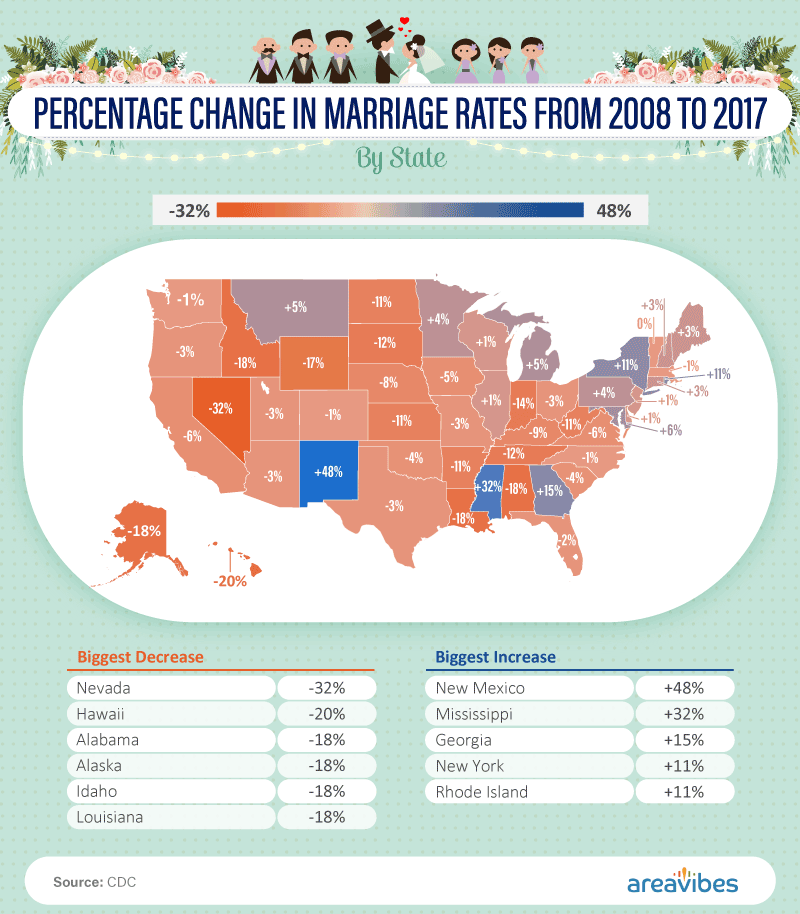 States spanning the northern U.S. border, especially in the Northeast and upper Midwest, have seen their marriage rates increase. However, New Mexico stands apart with a 48 percent growth in marriage.
Two Southeastern states, Mississippi and Georgia, saw their marriage trends increase at 32 and 15 percent respectively, along with New York and the tiny state of Rhode Island. Interestingly, Alabama – which sits between Mississippi and Georgia, saw an 18 percent decline.
Nevada, the Western state with the most marriages in the U.S., saw its marriage rate decline by 32 percent, leading all other states in this category. Additional states that also experienced a decrease in marriage rates included Hawaii, Alaska, Idaho, and Louisiana.
County Comparisons
When looking at the percentage of the married population by county, we found some states that experienced an uptick in marriages in recent years also had one or more counties with low marriage rates. Note: Move your cursor over a specific county to view the data.


Let's take a closer look at New Mexico – the state with the highest marriage growth trend highlighted in the previous section. Only 27.6 percent of individuals aged 15 and older are married in Guadalupe County, and just north, 31.7 percent of residents in San Miguel County are married. However, just southwest in Lincoln County, the marriage percentage is over 55 percent.
On the flip side, marriage trends may be slipping in Nevada, but 62 percent of Eureka County residents are married. A similar pattern is seen in Cameron Parish, Louisiana, where fewer than 62 percent of people are married in a state with declining marriage trends.
Maybe there is a secret hidden beneath the muddy waters of the Mississippi River – starting around Memphis and going south, the percentage of married people is low compared to the U.S. average of 50 percent.
Counties With the Highest Marriage Percentages
If finding a spouse is an immediate goal, you may want to avoid McPherson County, Nebraska, because over 76 percent of the population aged 15 and older are already married. This county also holds the distinction of having the highest percentage of married residents.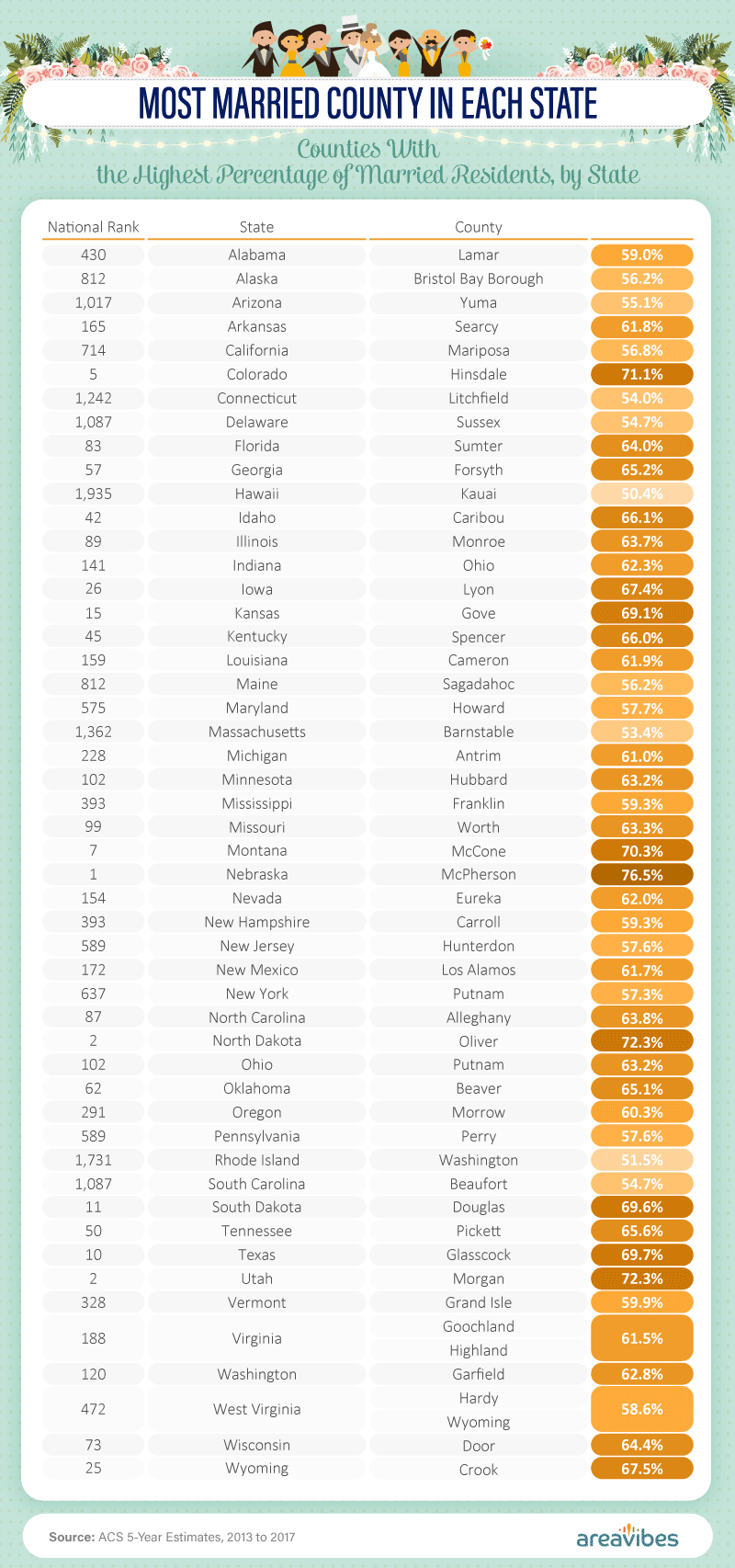 Kauai County, Hawaii, one of the state's most Western islands, has a married percentage of just over half of its available population. Although the weather in Kauai County is fantastic, with an average temperature in the mid to high 70s, the cost of living index is high, averaging 179, compared to the national average of 100.
Moving to the northern portion of the midwestern U.S. is Hubbard County, Minnesota, where 63.2 percent of their citizens are married. Unlike the tropical temperatures seen in Hawaii, Minnesota's weather can be more frigid, with many days in January and February averaging only 6 to 18 degrees Fahrenheit.
Want to Stay Single? Try These Counties
Lexington City, located in Virginia, holds the distinction of being the area with the highest percentage of residents who have never married, at an incredible 67.9 percent. Imagine, over two-thirds of people in this county have never tied the knot!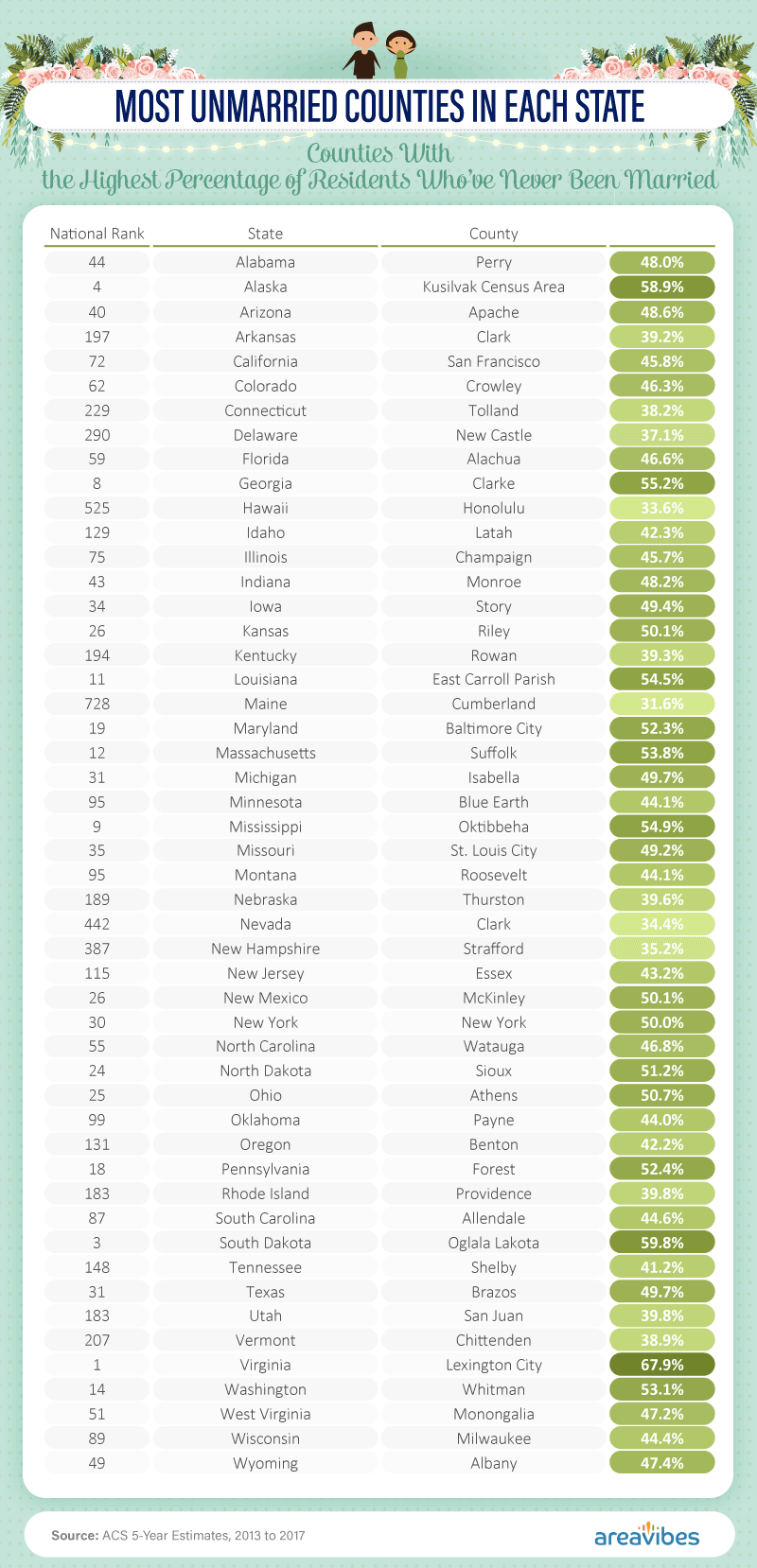 Other states with a high percentage of counties with residents who've never married include Oglala Lakota County, South Dakota; Kusilvak Census Area, Alaska; and Clarke County, Georgia, home to the city of Athens and the University of Georgia.
Athens, Georgia, is located approximately 70 miles from Atlanta and has a population of over 120,000. The median age is 26.7, much lower than Georgia's average age of 36. This might explain why only 35 percent of city residents are married.
Only 31.6 percent of Cumberland County, Maine, residents have never been married, the lowest percentage when compared to the other 49 states. Riley County, Kansas, sitting in the heartland of the Midwest, and home to Fort Riley and Kansas State University, is practically split down the middle with 50.1 percent of residents that are married.
Young, Never Married People Live Where?
Not all 20- and early 30-somethings have a desire to stay single forever, but for men and women who are looking for locations where the never-married population is highest, below are the counties and states to consider.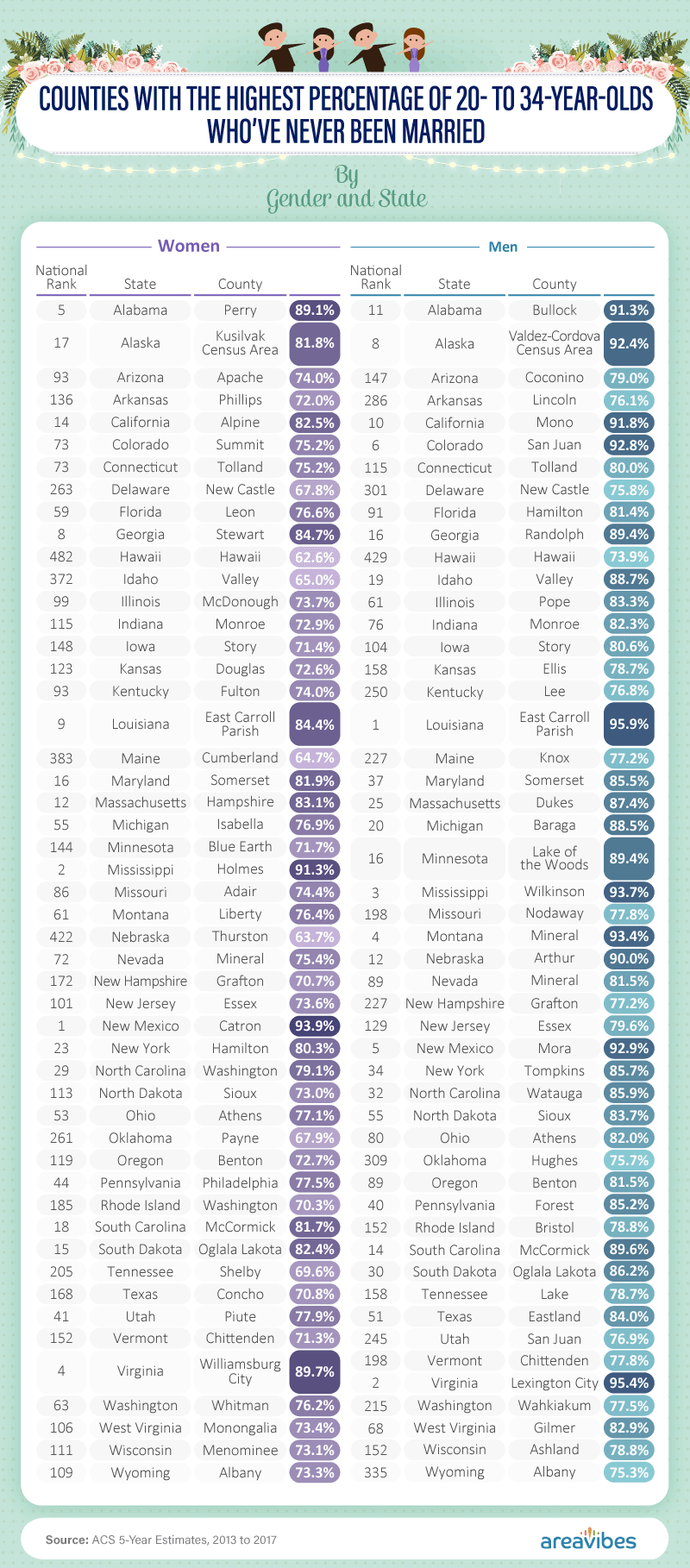 East Carroll Parish, located in northeast corner of Louisiana and along the Mississippi River's famed Delta region, claims the top spot where almost 96 percent of young men remain single. However, the total number of men may not be that high given the parish only has a total population around 7,100 (and less than 10 percent of the population 25 and older has a bachelor's degree).
Other areas with a high percentage of young, never-married men are Wilkinson County, Mississippi; Mineral County, Montana; and San Juan County, Colorado.
For women, almost 94 percent of young women in Catron County, New Mexico, have never married. Like many rural counties, the population is low, and Catron County has only around 3,500 people.
Counties with many unmarried, young women also include Holmes County, Mississippi; Williamsburg City, Virginia; Perry County, Alabama; Stewart County, Georgia; and – believe it or not – East Carroll Parish, Louisiana.
Baby Boomer Availability
Finding love or maybe simply someone to hang out with who has never been married isn't just for the young. Active people over age 65 and who are single or widowed and don't want to spend their golden years alone, also have options for finding never-married partners.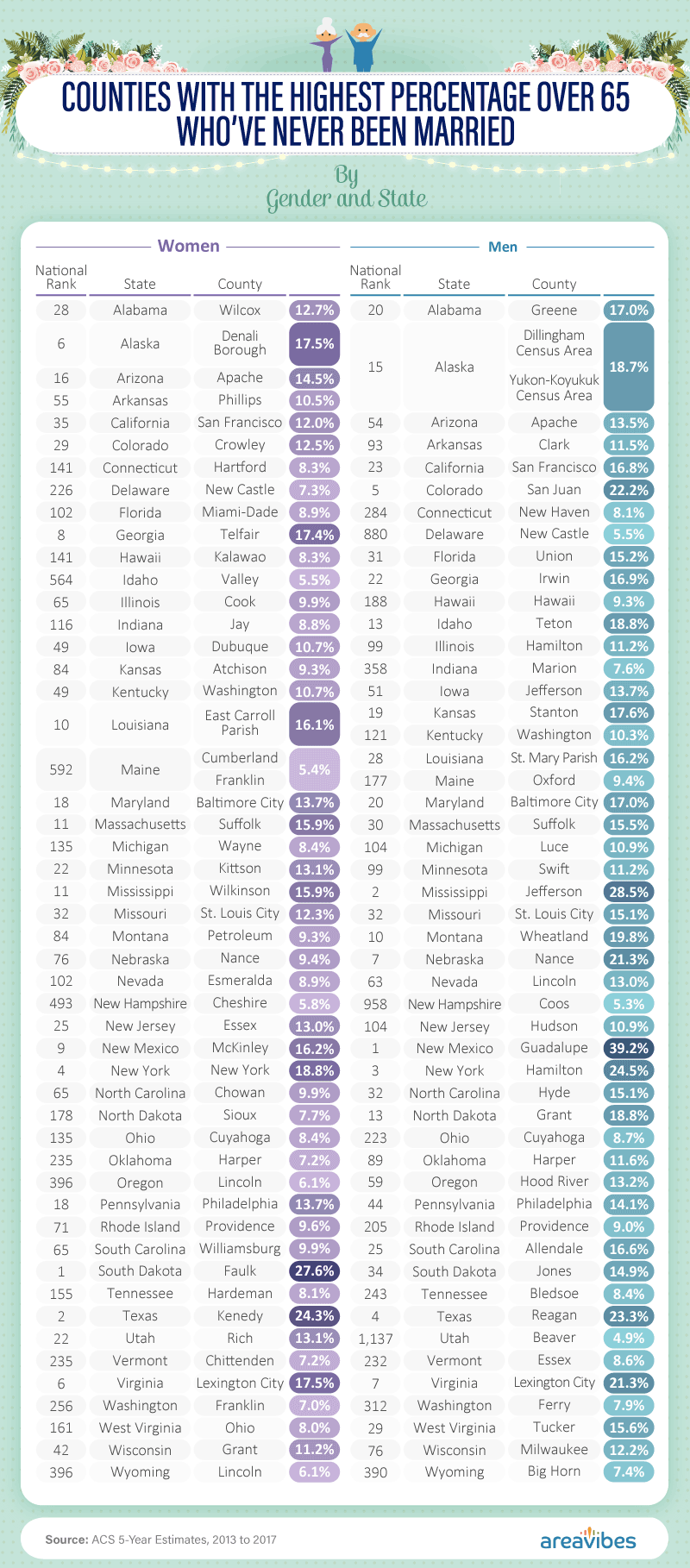 Almost 40 percent of men over 65 in Guadalupe County, New Mexico, must have never found their perfect match because they were never married. Compare that figure to the 27.6 percent of women in Faulk County, South Dakota, who have never tied the knot.
According to Pew Research Center, the U.S. marriage rate is right at 50 percent. However, two trends are starting to impact marriage statistics. First, people are waiting longer to marry. Plus, people's attitudes toward getting married have changed through the years, since more adults are living with a partner instead of marrying, or raising children outside of marriage.
Could either of these be the reason almost 25 percent of men over 65 in Hamilton County, New York, never married? That remains to be confirmed, but there must be some reason over 28 percent of older men in Jefferson County, Mississippi, never married as well.
States and counties where women over 65 are still available include Texas' Kenedy County. However, we're talking a tiny number here since the total population is only 417 people.
If it's more significant numbers of never married, older women you're looking for, try New York City, more specifically Manhattan. The available percentage there is almost 19 percent, and with a total population of over 1.6 million, the odds skyrocket for those looking for love.
Mapping Is Hard, Finding a Great Places to Live Isn't
As far as the best places to live go, it might depend on whether you're planning to stay single or walk down the wedding aisle. Nevada, home to Las Vegas, which is known as the "Wedding Capital of the World," has seen the steepest decline in new marriages of any U.S. state, while New Mexico's marriage rate has soared, climbing over 48 percent in 10 years.
On a local level, we saw clusters of counties in the South, including Perry County, Alabama, that had less than 25 percent of its population enjoying wedded bliss. If you're looking to mingle with other married couples in a tropical paradise, Hawaii's Kauai might be one place to check out.
Methodology
We collected data using the U.S. Census Bureau's API on the American Community Survey 2013 to 2017 5-year estimates data release. For more information on the American Community Survey and their methods, we encourage readers to review their methodology report.
In the first graphic, "Percentage Change in Marriage Rates From 2008 to 2017", we used the CDC's data on marriage from 2008 and 2017 to determine the percentage change.
Sources
Fair Use Statement
Age, location, and marital status aren't relevant to us if you want to share these data with your readers. As long as it's for noncommercial purposes, please be our guest. The one favor we ask is to link back to this original article so that others can read our complete analysis.