What's in a Hashtag?
What makes a photo Instagram-worthy? The angle, the composition, the subject? Now, what about a city? What makes a city Instagram-worthy? The buildings, the history, the hotspots, the people – these are the elements we try to capture when we're sharing what we love most about a memorable place we have visited. Whether it's your hometown or your first trip to a new city, capturing the magic that makes a place special helps us share those feelings with our friends and family.
We searched Instagram for the hashtag #CityLife and then sorted the photos based on key items like location, number of likes, and the activity pictured in the photo (entertainment, sports, bars, or transportation). Using that information, we discovered the most important elements to include when capturing some famous big cities (and some surprising smaller ones).

State CHamps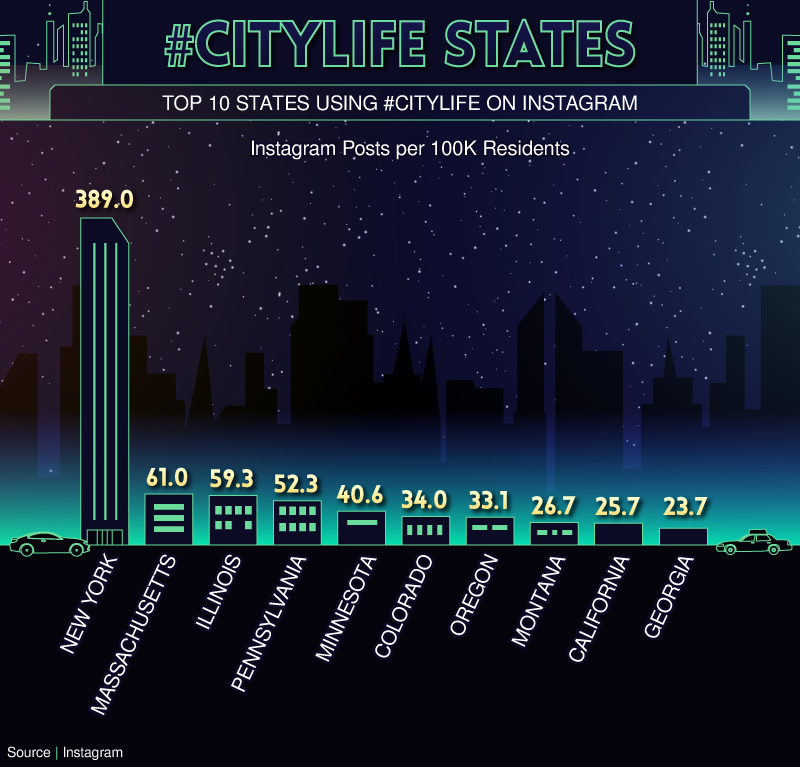 The top state using the #CityLife hashtag on Instagram? New York State. With Manhattan at the heart of New York City and neighboring boroughs like Brooklyn and Queens, it should be no surprise that the state of New York would be so high on our list. Outside of the Big City, you're sure to find beautiful hiking trails and the gorgeous Atlantic coast of Long Island to bring more glories of nature to #CityLife in New York State.
Following up the state of New York is Massachusetts. With a capital like Boston, where sports are a way of life and the food is just as important as the history, Massachusetts has more Instagram-worthy moments than we can count.
But it's not just skyscrapers that are worth photographing. States like Colorado, Oregon, and Missouri balance famous cityscapes with breathtaking scenery. In Colorado and Oregon, cities like Denver and Portland may draw in the tourists, but mountain views in Vail and overlooking Mount Hood help make these states unforgettable.

City Lights, #CityLife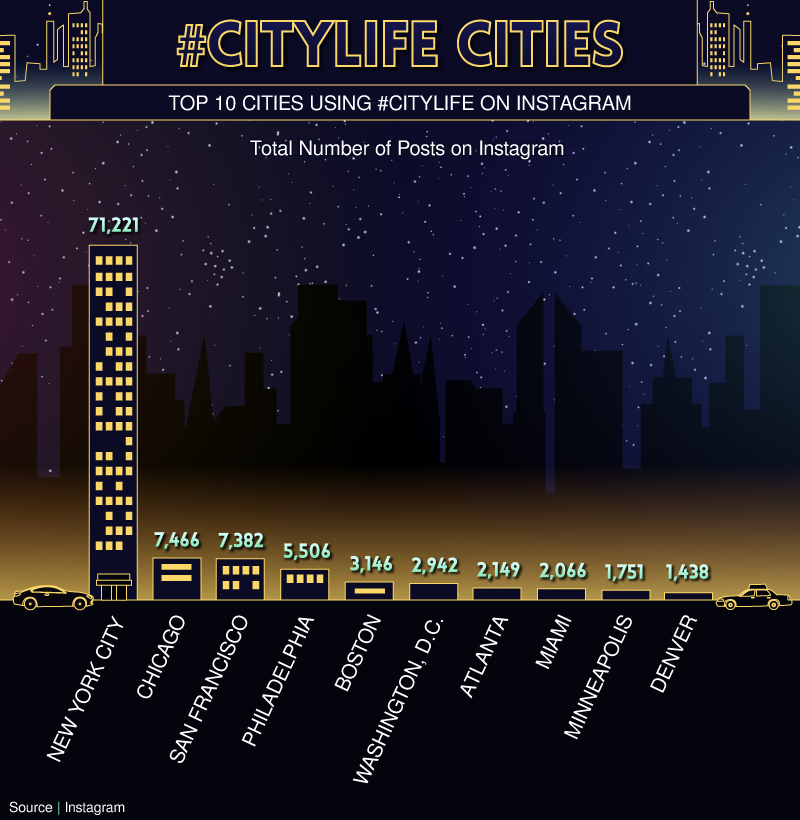 The Big Apple towers above other cities when we break down the use of #CityLife by city. As one of the most visited locations in the world, NYC is photographed extremely often. The city that truly has something for everyone also has a diversity of iconic locations worthy of likes and comments. World-renowned Statue of Liberty? Check. Historical architecture? Check. Famous retail shopping locations? Check. Not to mention more museums, restaurants, and bars than we can count. You might even run into someone famous while you're there, and if that isn't a reason to tag #CityLife, what is?
NYC isn't all about Manhattan and the Big City though. For a quieter and more suburban feel, Brooklyn is just a short train ride away. And while Manhattan might be known for its nightlife and luxury condos, Brooklyn is instead known for Sunday brunch and fresh farmers markets. Looking to get away from Manhattan's sky-high buildings? You'll find tons of street art and attend parties on rooftops rather than in nightclubs in Brooklyn.
In the Sunshine State, Miami is also making a name for itself on Instagram. There, it's basically summer all year long, and the beaches are always crowded. Miami shows us what #CityLife looks like on vacation. Despite also having famous restaurants and clubs like Zuma or LIV, the picturesque parts of Miami are sure to involve sun and sand.
State Pride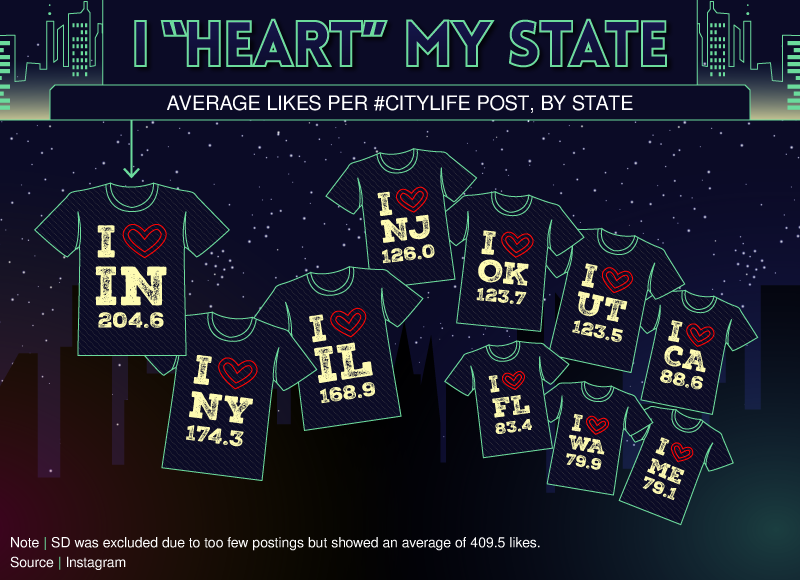 When we looked at the popularity of posts with the #CityLife hashtag by state, we thought we'd find the most state pride in those with famous cities and lots of tourism. What we actually found was that Indiana topped our list. Averaging over 204 likes per post, Indiana more than doubled states like Florida and California. Indiana pride focuses on things like football (the Indianapolis Colts have won the AFC South six times in the last 10 years) and craft beer. Breweries like Triton and Thr3e Wise Men are just a few of the widely popular places in Indiana that are worth snapping group pictures at. And have we mentioned the food? The famous St. Elmo Steak House is one of the crown jewels that makes Indiana Hoosiers fiercely proud of their state.
New York and Illinois weren't far behind, averaging over 160 likes each. With major tourism destinations like NYC's Empire State Building and Chicago's famous "Bean" (aka "Cloud Gate"), shots taken in these states often include iconic scenery.
Some other surprising additions to the list include Utah and Maine. Like Indiana, Utah has a strong brewery scene and great food options. City life in Salt Lake City, though, is a little different than in some other places. In fact, SLC is at its best when covered in freshly fallen snow – the perfect time for its immensely popular snowboard season to come alive.  

They Posted Pictures of What?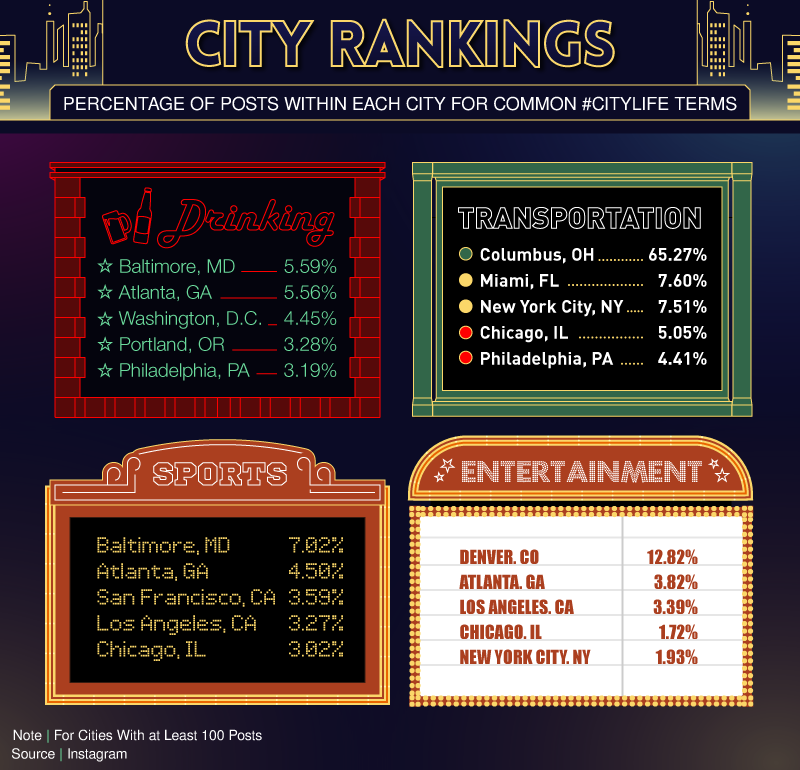 When we broke down the usage of the #CityLife hashtag by activity, the hearts of these major cities came to life.
When it comes to bars and booze, Baltimore is at the top. With unique spots like Woodberry Kitchen and the Annabel Lee Tavern, mixology is alive and well in the Charm City. Also on our list for popular drinking snapshot-havens were Washington, D.C., and Portland, Ore. The drinks at D.C.'s The Rye Bar are so pretty that your friends probably won't make it into the picture, and Bailey's Taproom in Portland is the quintessential "Keep Portland Weird" kind of pub.
Baltimore also takes the crown when it comes to sports. With die-hard fans of both the NFL's Baltimore Ravens and the MLB's Baltimore Orioles, you're probably posing with either Poe or the famous Oriole Bird when you're out at these stadiums. Los Angeles, Calif. also ranked in the sports category. Despite only recently reacquiring a professional football team, basketball has long had a huge place in the hearts of LA locals. And as the only city that can claim two NBA teams, (the Los Angeles Lakers and Los Angeles Clippers), LA brings the heat (and the IG posts) during basketball season.
For entertainment, we turn to Denver, Colo. Denver comes in high on our list because of its famous music venues, like Red Rocks Amphitheater. Home to entertainment events like "Yoga on the Rocks," concerts, and even movie nights, the self-proclaimed "acoustically perfect" Red Rocks is a national destination and certainly a local treasure. It's also one of the most beautiful (and photogenic) concert venues we've ever seen.

Filter-Famous Photos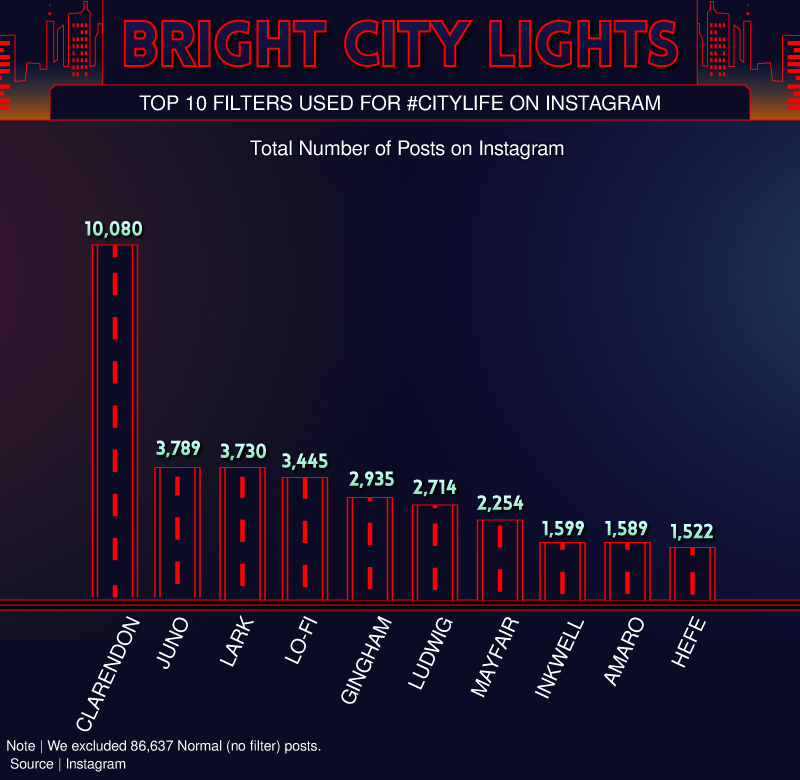 The perfect photo wouldn't be the perfect Instagram post without the right filter. Overwhelmingly, pictures tagged with #CityLife used the Clarendon filter. It was originally created by Instagram as a video-only filter, but this popular edit also adds high contrast and a tint over the photo; it pulls from the most prevalent color in the shot. The simplicity and eye-catching nature of Clarendon helped it show up over 10,000 times in the posts that we looked at.
Inkwell was the only black and white filter to make our top 10. Perfect for shots with natural contrast and simple lines, Inkwell helps keep the original beauty of scenic shots in focus without the distraction of harsh or unnecessary colors.
Cityscapes and Snapshots
Sometimes it isn't just the buildings that make a city popular. The culture that we find in diners, in sports stadiums, and even in the subway are what make our cities great. Those are the things we try to capture in our photographs – the feeling of what it was like to be somewhere for a moment in time.
When we looked at the #CityLife hashtag, we found some surprising places that people were proud to call home, as well as some interesting elements that make those places so special. The bars in Baltimore and the beautiful scenery in Salt Lake City are distinctly unique, and capturing them for Instagram is a popular pastime. You might not really understand why a picture of your friends with a beer in Portland captures the magic of the moment so perfectly, but hopefully, it makes you want to visit and find out.

METHODOLOGY
We searched for the term #CityLife on Instagram. The results were then sorted based on key items, such as location and filters, as well as terms for entertainment, sports, bars, and transportation.
Want to Share the #citylife?

Just like Instagramers shared their photos, we encourage you to share our graphics above. Just make sure you include a link back to this page to give the author proper credit.
Sources