"Where did that player come from?" If you've ever seen an unbelievable play occur during a sporting event, you've undoubtedly heard or asked that question. With so many athletes playing professional sports today, figuring out the who's and where's can be difficult.
Which towns have produced the most professional athletes? When it comes to the MLB, NBA, NHL, and NFL, are certain cities and states doing a better job of producing these talents? Read on to see the breeding grounds of America's best professional athletes.
Stately Athletes
Based on the data, Washington, D.C, has produced the greatest number of professional baseball, basketball, hockey, and football players (a little over 53 athletes per 100,000 residents). You might be familiar with some of these players, such as Indianapolis Colts quarterback and 2012 NFL draft first overall pick Andrew Luck. There's also the 2013-14 NBA League MVP Kevin Durant, who is now enjoying the Pacific Coast as a member of the Golden State Warriors.
Mississippi has also contributed a significant number of players to the four major sports (nearly 30 athletes per 100,000 residents). There are a few NFL legends who call the Magnolia State home: San Francisco 49ers wide receiver Jerry Rice from Crawford; Chicago Bears running back Walter Payton from Columbia; and New Orleans Saints quarterback Archie Manning from Cleveland.
Most Valuable Sports States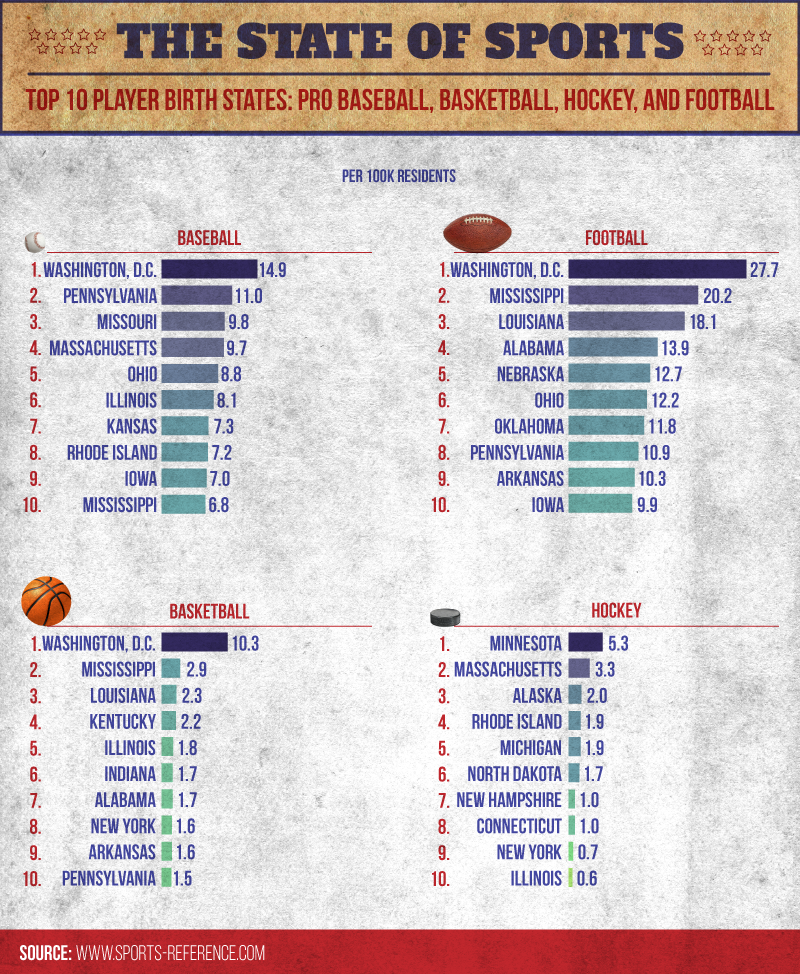 Across three of the four professional sports leagues – baseball, basketball, and football – Washington, D.C., has produced the largest number of athletes per 100,000 residents. However, Minnesota has produced the greatest number of professional hockey players (5.3).
When it comes to baseball, the most players come from Pennsylvania (11), Missouri (almost 10), and Massachusetts (nearly 10). Famous baseball players from Pennsylvania include Ken Griffey Jr. and Mike Piazza.  
Finally, the South reigns supreme when it comes to producing professional football players. Mississippi and Louisiana have produced around 20 and 18 football players, respectively, per 100,000 residents. Kansas City Chiefs Spencer Ware; Houston Texans Alfred Blue; Washington Redskins Robert Kelley; New York Jets Matt Forte; Cincinnati Bengals Jeremy Hill; New England Patriots Brandon Bolden; and Green Bay Packers Eddie Lacy are all current running backs in the NFL and were born in Louisiana.
Home Run Hometowns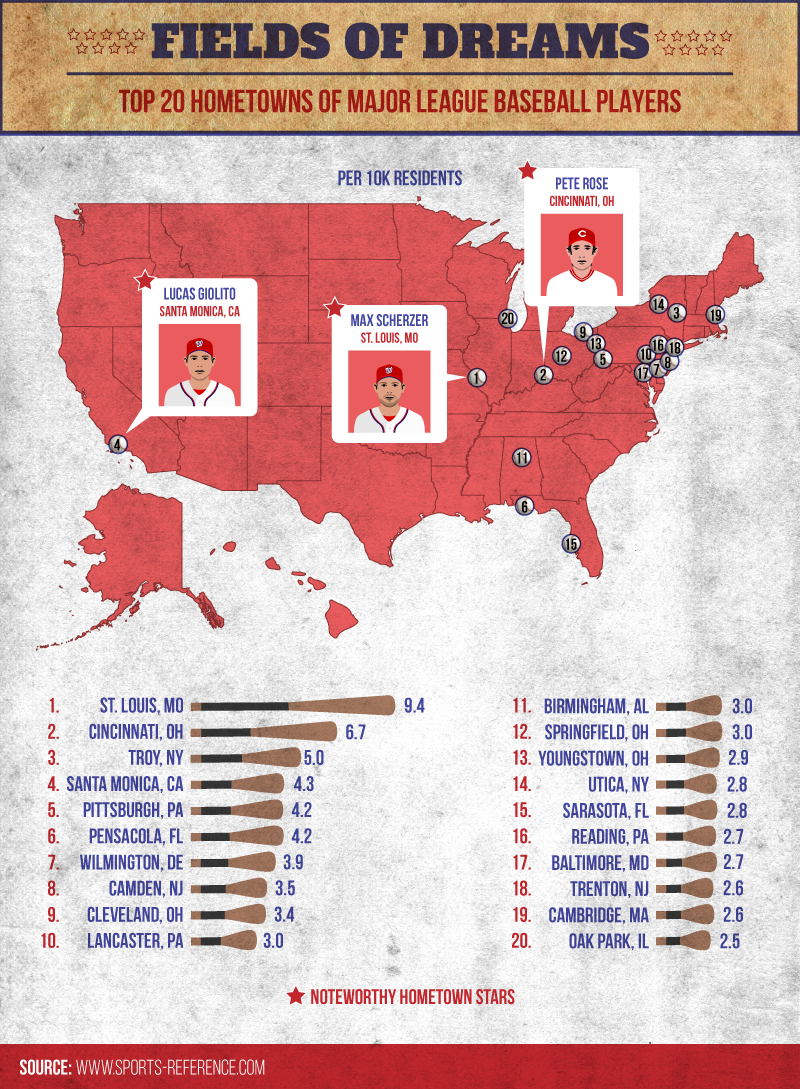 The St. Louis Cardinals have the second most World Series wins in all of Major League Baseball, so it shouldn't come as a surprise that it has produced the highest number of professional baseball players (9.4) per 10,000 residents.
Lawrence Berra, better known as "Yogi," was a native son of St. Louis but helped the New York Yankees win 10 out of 27 World Series championships.  This feat only encouraged fans to drop off flowers, letters, and gifts at his childhood home (occupied by his niece) when he passed away in 2015.
In Cincinnati – which has produced the second highest number of professional baseball players (6.7) – Pete Rose is the picture of success as a player. Rose (also known as "Charlie Hustle") brought two World Series championships to Cincinnati, Ohio, in addition to the significant number of individual accolades he earned as a player.
Friday Night Lights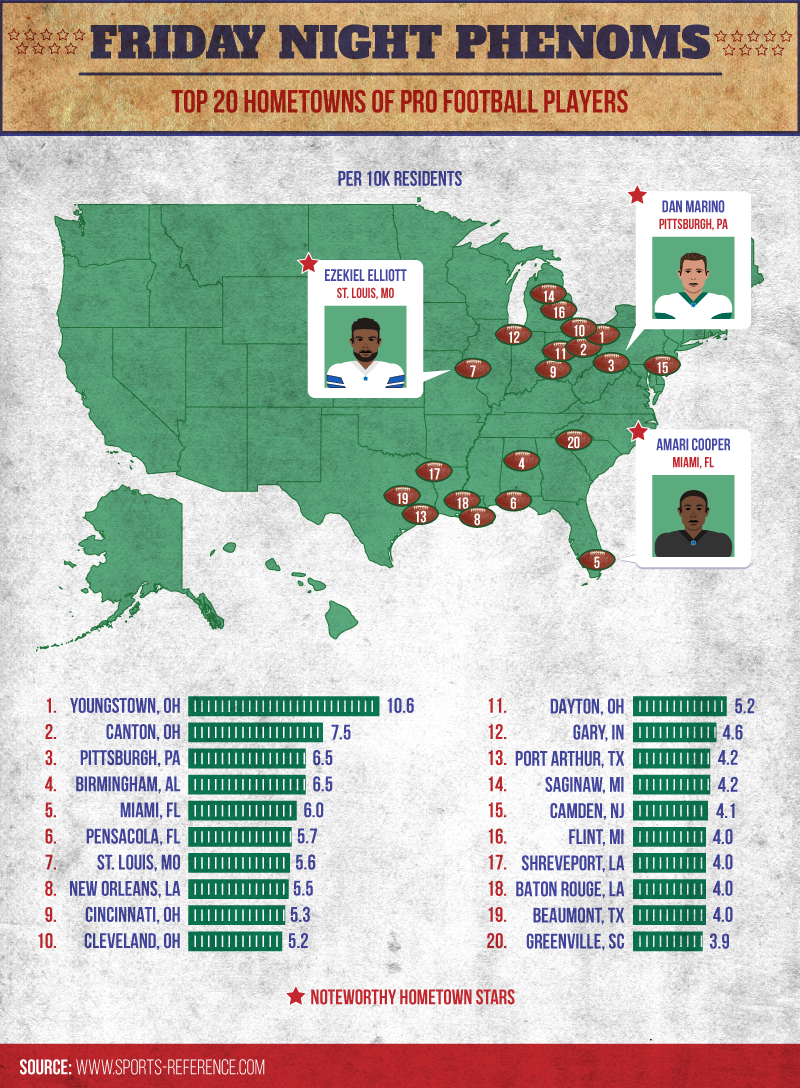 While Texas football is often talked about – through nonfiction books, big-screen movies, TV dramas , and the University of Texas' Longhorn Network (in partnership with ESPN, which provides 24-hour coverage primarily on their football program) – only two of the top 20 hometowns for professional football players are located in Texas. However, Ohio has the most cities represented: Youngstown (almost 11 players per 10,000 residents), Canton (seven players), Cincinnati, Cleveland, and Dayton (around five players each).
Pittsburgh, Pennsylvania, has given birth to nearly seven professional football players per 10,000 residents. Ty Law, former defensive back for the New England Patriots and three-time Super Bowl champion, calls the greater Pittsburgh area his birthplace. Hall of Fame quarterbacks and league MVPs Dan Marino and Joe Montana also hail from the metropolitan areas surrounding Pittsburgh.
Local Layups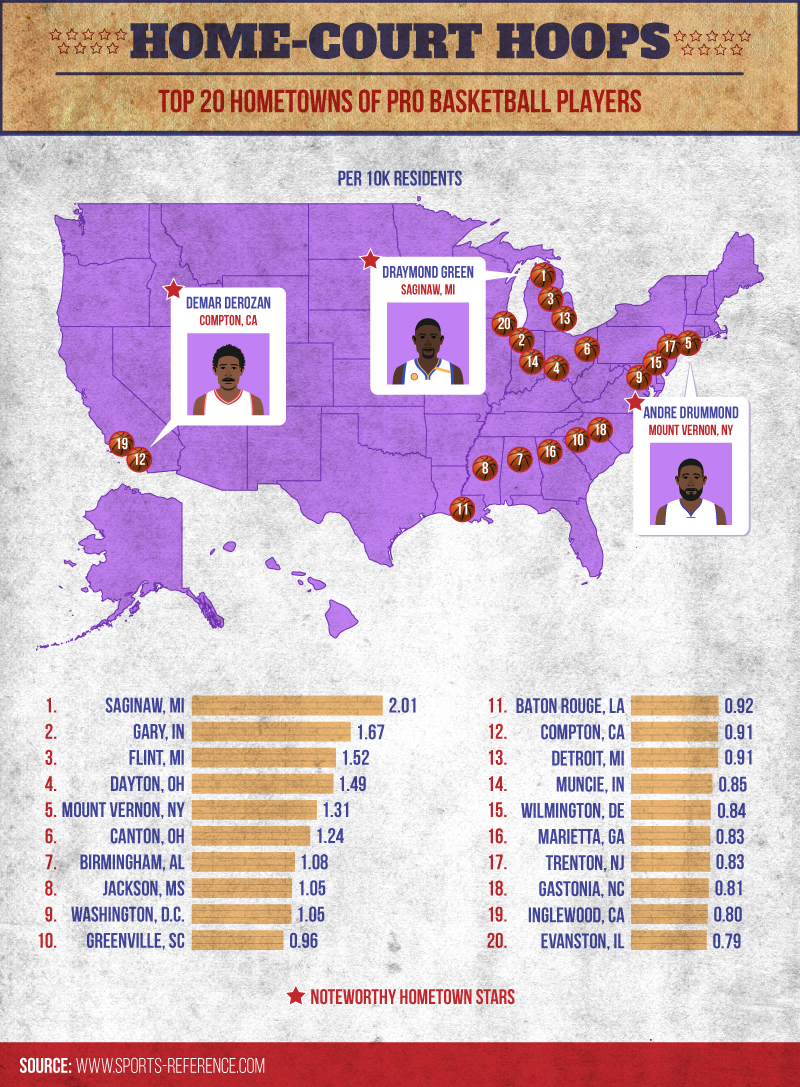 Saginaw, Michigan, has produced the most professional basketball players – around two players per 10,000 residents. You may have never heard of the city before, but you may have heard of the most recent on-court celebrate born in the city: Draymond Green. "Day-Day" graduated from high school in Saginaw and stayed in-state for college, where he attended Michigan State University before heading to the West Coast. He was drafted in the second round of the 2012 NBA draft and helped the Golden State Warriors win the 2014-15 NBA Finals. Green is doing Saginaw proud!
Two other Michigan success stories come from Flint – Golden State Warriors center JaVale McGee and Boston Celtics shooting guard James Young. Both of these players went in the first round of their respective NBA drafts and are examples of the quality of players born in Flint, Michigan.
Northern Exposure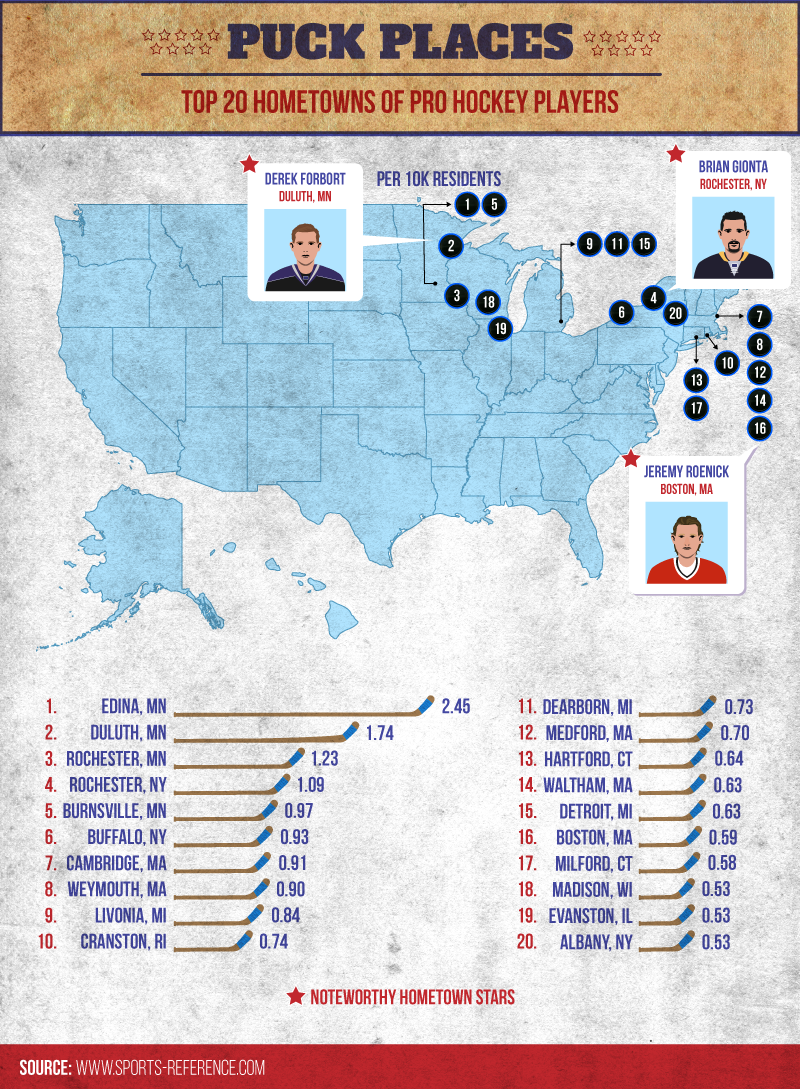 Only eight states have at least one city or more that have produced the most professional hockey players per 10,000 residents. Massachusetts has five cities represented, which is followed by Minnesota (four cities), New York and Michigan (three cities each), Connecticut (two cities), and Illinois, Rhode Island, and Wisconsin (one city each). With over two players per 10,000 residents, Edina, Minnesota, is the top city. Two current NHL players – Arizona Coyotes defender Jamie McBain and New York Islanders center Anders Lee – hail from this town.
Rochester, New York – the only city in the top five not located in Minnesota – had over one professional hockey player per 10,000 residents. Three players born in Rochester currently play in the NHL today: Buffalo Sabres right wing Brian Gionta, New York Islanders center Shane Prince, and Tampa Bay Lightning right wing Ryan Callahan.
Windy City Vibes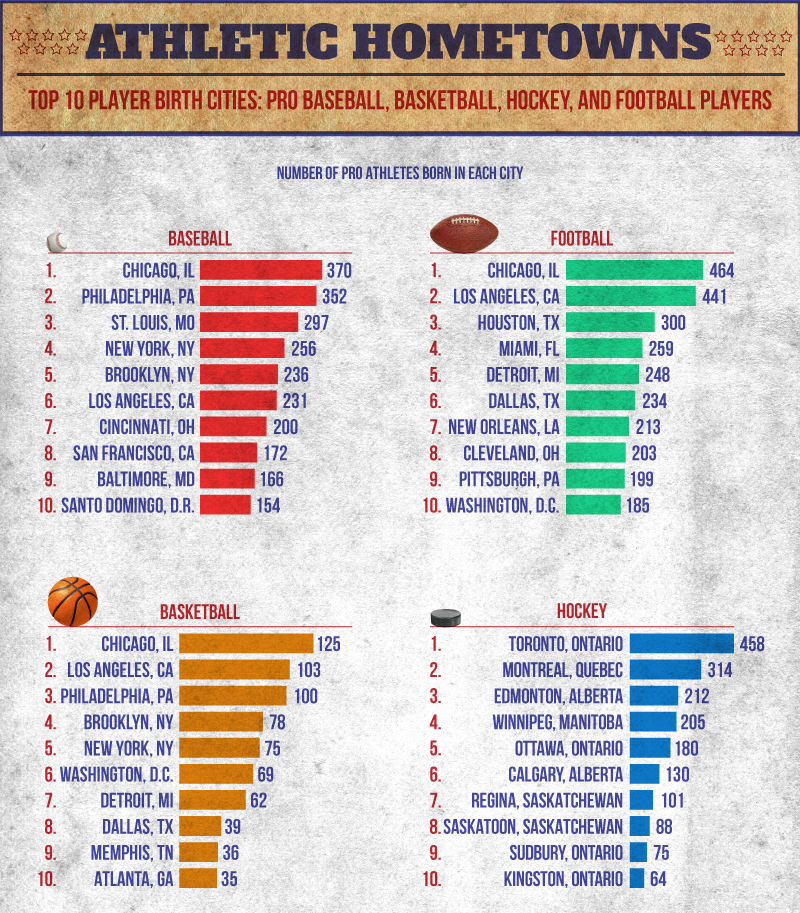 Across all possible cities in the four major sports, Chicago has had the most baseball (370), basketball (125), and football (464) players born within its city limits. Another city producing a significant amount of talent, and placed second behind Chicago in football (231) and basketball (103) and fifth (231) in baseball, is Los Angeles, California.
Each city for hockey is a Canadian province or territory. While the vast majority of NHL teams operate in an American city, no U.S. city made the list. Toronto (458), Ottawa (180), Sudbury (75), and Kingston (64), Ontario, have produced the most professional hockey players.
Land of the Ballers
Where you're born doesn't mean everything – even some of the biggest names in sports have origins in small towns you've probably never heard of. We see that some of the biggest cities in the country – Chicago, Los Angeles, and New York – produce the some of the largest amounts of athletes for baseball, basketball, and football. We also know that Canada is where most of our professional hockey players are come from.
While there are cities who produce more talent, this can mean it's harder to be the city's star. Across multiple sports and over 100 years of competitions, understanding who the hometown hero really is can be difficult. Perhaps when you're an athlete looking to standout from the crowd, a small town is a better staging ground for your rise to the top.
Methodology
We collected player information from Sports-Reference.com sites related to baseball, football, basketball, and hockey to determine pro athlete birth states and cities. We compared the number of players by state per 100,000 residents and by city per 10,000 residents. The graphic titled "Athletic Hometowns" shows the cities with the highest total number professional athletes by place of birth.
Sources
Fair Use Statement
Who doesn't want to come from the same area as professional athletes? Share our content with your readers for noncommercial purposes only. Just please give our creators the credit they deserve.