It's not hard to fall in love with the Land of the Free. It's brimming with so much diversity, the United States is rich with culture and history. Whether you're looking for adventure, relaxation, or a new experience, each state has something to offer. In many ways, we're incredibly lucky. Uncle Sam's backyard is a gold mine.
There are, however, parts of the United States that people prefer to others. To see just what Americans are thinking when it comes to their home turf, we surveyed 2,000 people across the country about their favorite cities and states. Do you agree with what the masses have to say?
Continue reading to see if your favorite city or state made the list.
How Do I Love Thee?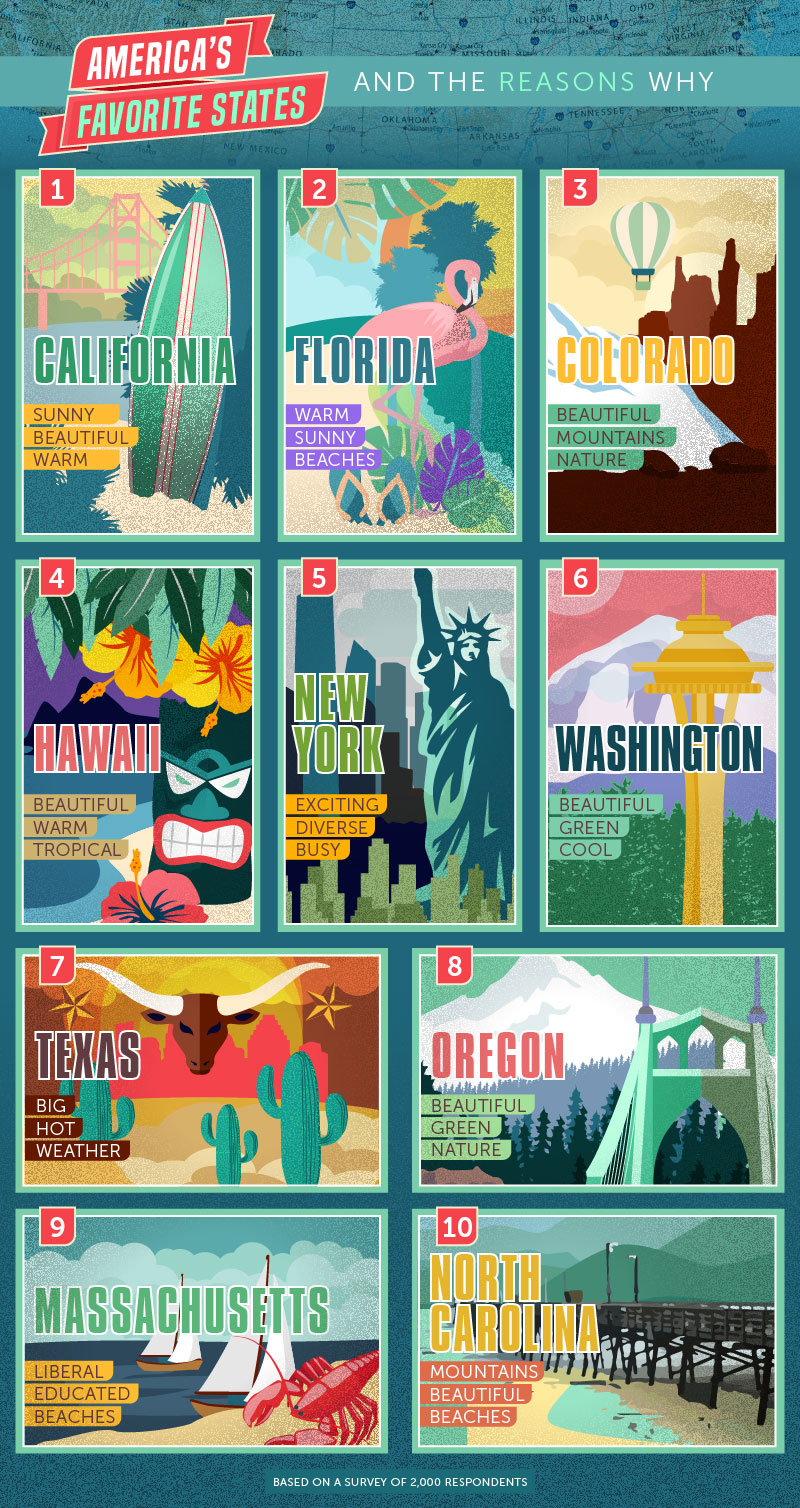 What words came to mind when you first traveled to your favorite state? Were you overwhelmed with descriptive adjectives – gorgeous, peaceful, exciting – or was your breath simply taken away? When it comes to favorite states, our survey respondents seemed to agree on one thing: tropical states are little pieces of heaven.
Coming in at No. 1, California is a favored state for its bright sunshine, beautiful views, and warm temperatures. It boasts a stunning number of natural attractions, like Catalina Island and Napa Valley; people appreciate this large oasis on the West Coast.
Those yearning for tropical breezes and warm sunshine are also in love with Florida and Hawaii, which were Nos. 2 and 4 on the list respectively. Both states offer breathtaking beaches and weather that stays warm year-round.
With their awe-inspiring mountains, Colorado and North Carolina are what nature lovers live for. Ready to breathe the fresh air on top of a cliff?
Heart of the City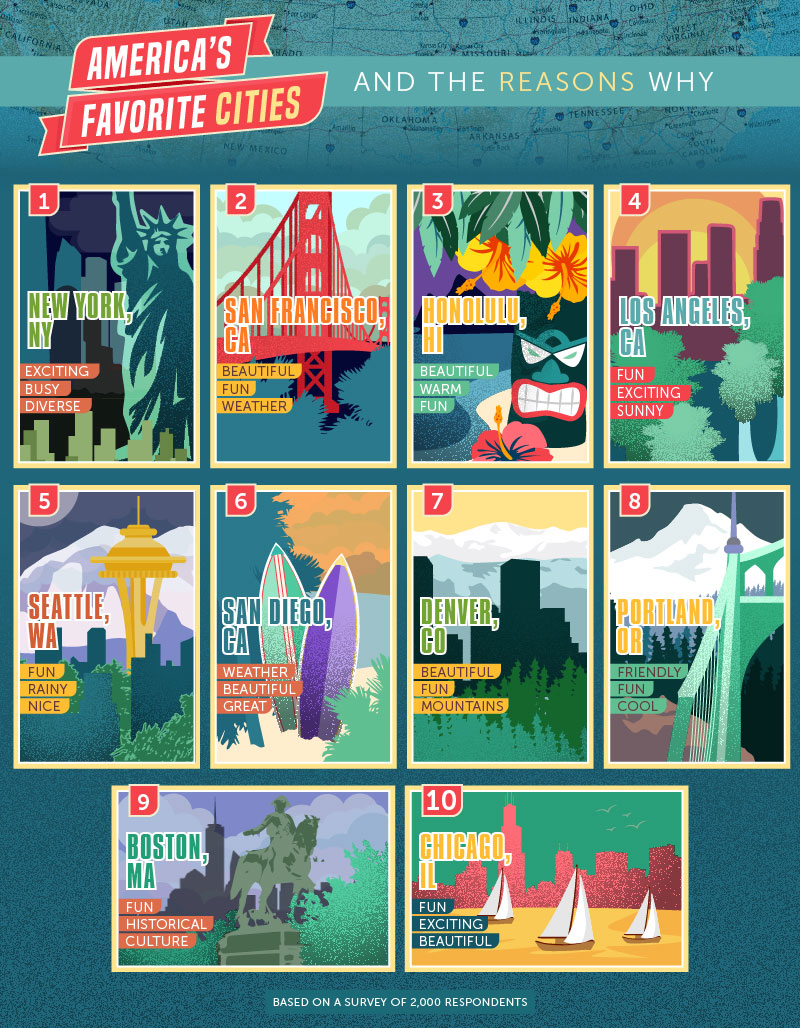 Next, we asked our respondents about their favorite cities. While all great cities offer unique and varied experiences, some just have a certain ... je ne sais quoi. Take New York, N.Y., for example. Picked as America's favorite city, the Big Apple can only be described with words like "exciting," "busy," and "diverse." It can easily take days to see and do everything in this metropolitan jungle – from Broadway and the Statue of Liberty to the Brooklyn Bridge and exquisite dining across the city. The best part is that there is something for everyone.
Not only is California a favorite state, but survey respondents can't get enough of San Francisco and its hilly landscapes, colorful Victorian houses, and backdrops (like the Golden Gate Bridge). Words that were used to describe this city were "beautiful," "fun," and "weather" (fog, anyone?).
Noticeably, "fun" was a word used multiple times to describe favorite cities. Honolulu, Los Angeles, Seattle, Denver, Portland, Boston, and Chicago all received this honor.
Calling States Home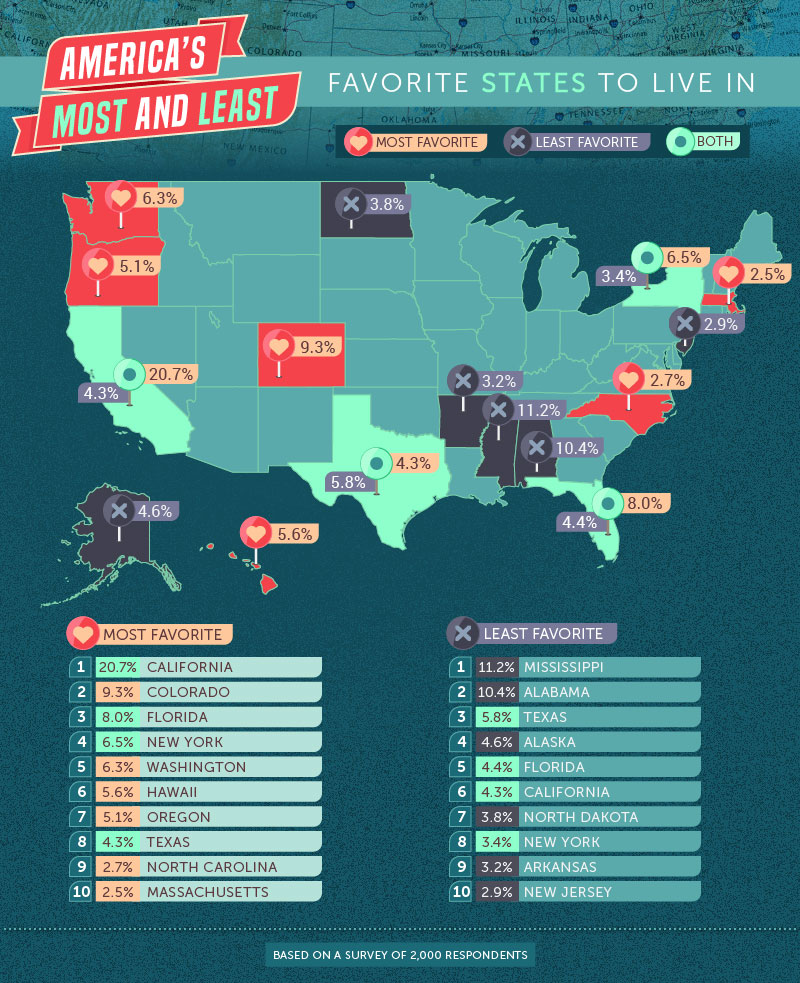 Visiting a state is one thing, but actually living there is an entirely different matter. While it can be fun seeing things you've never seen before, it really takes something special for people to move to a particular location. Interestingly enough, when we asked our survey respondents about the states they would most and least like to move to, four states were pretty polarizing.
While a lot of people have a soft spot for California – 20.7 percent of survey takers said they would like to move to this state the most – some don't really understand its charm. About four percent said they would not move to California. Even Florida, with its manatees, awesome weather, and hidden springs, doesn't have everyone convinced. While eight percent of respondents said they would move to Florida, 4.4 percent said they wouldn't.
People were also pretty divided when it came to The Lone Star State and New York. Of our survey takers, 6.5 percent would move to New York, while 4.3 percent would move to Texas. On the other hand, 5.8 percent wouldn't move to Texas, and 3.4 percent wouldn't move to New York. Talk about preferences.
Calling Cities Home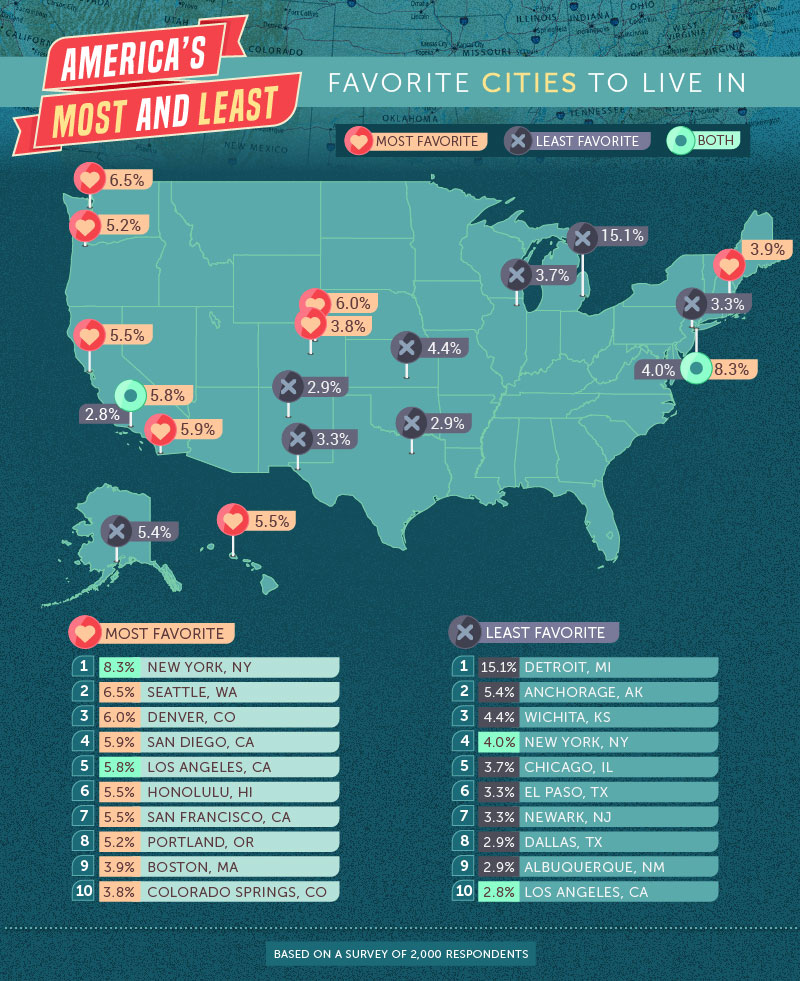 Let's be honest – you've probably considered moving to a major city at some point in your life. In a city that never sleeps, you could do so much. But is crazy traffic, noise pollution, and hour-long lines to a favorite restaurant worth the trade-off? For some of our survey respondents, the answer is no. When it comes to New York City, 8.3 percent of respondents indicated they would love to live there. At the same time, four percent don't even want to think about it.
Los Angeles – known for Hollywood and glamor – caught the eye of 5.8 percent of survey takers, while 2.8 percent said they would not live there.
Despite some cities having both fans and frenemies, our findings show that our survey takers are pretty open to the idea of moving to a new city. 6.5 percent of people would love to move to Seattle; it comes in at No. 2. Even Denver (6.0 percent) and San Diego (5.9 percent) have a vote of confidence. Unfortunately, the same can't be said for Albuquerque (2.9 percent) and Dallas (2.9 percent).
Favorite States for Life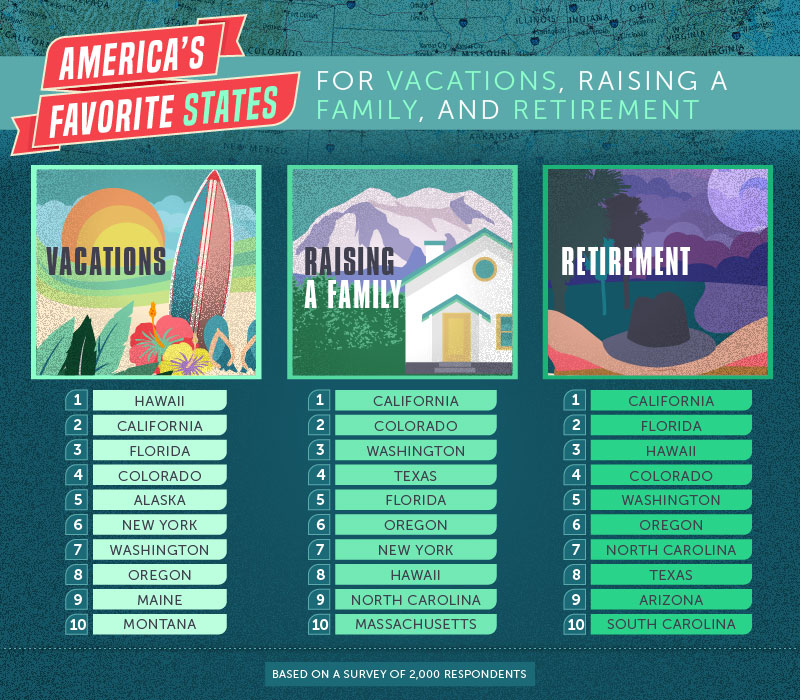 While some states are great for a quick visit – or an extended vacation – it doesn't necessarily mean you want to permanently live there. Imagine living near a swamp in Florida, where mosquitos are bound to get you. What about raising a family in the dead of winter in Massachusetts? Would you want to retire in Arizona, where temperatures can easily exceed 100 degrees? Based on our findings, survey respondents may be thinking the same thing.
Who doesn't love a good vacation? When it comes to taking a load off (temporarily), Hawaii, California, and Florida top the list – again. People also dig Colorado, Alaska, and New York when it comes to seeing some sights.
As for raising a family, some survey respondents have no qualms about moving to California or Colorado. And while Washington is No. 7 for favorite vacation states, our results show that people appreciate it much more while raising children.
It also turns out that when it comes to retirement, California, Florida, and Hawaii are on everybody's mind. It makes sense considering that Florida is famous for its retiree-haven status and lack of state income tax; California offers a lot to do; and Hawaii provides a slower pace of life.
Favorite Cities for Life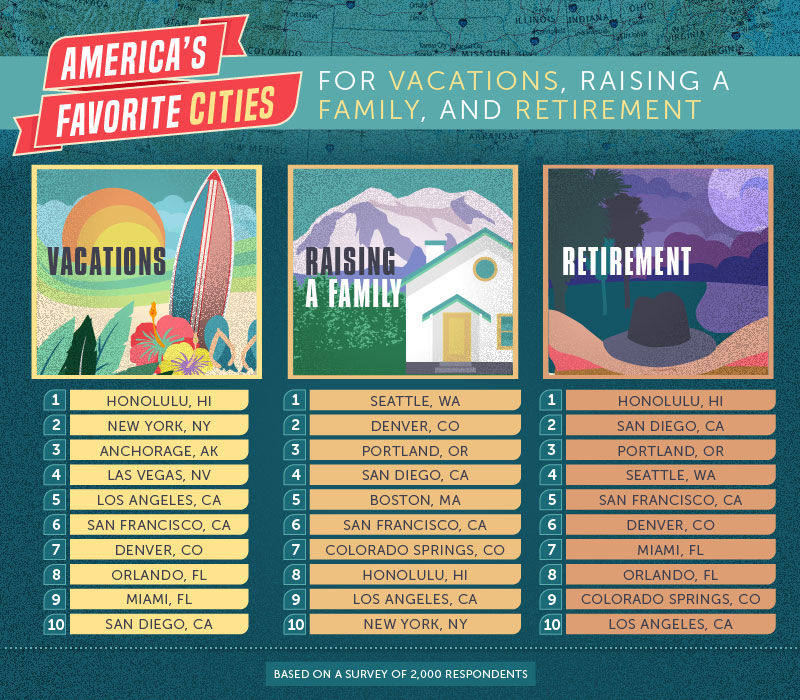 When we zoomed in on favorite cities, it wasn't at all surprising to see Honolulu as the No. 1 city for both vacation and retirement. But whereas California dominated the No. 1 spot for raising a family in the previous graphic, survey takers feel that Seattle, Wash., is a much more appropriate place for a family.
And while New York, N.Y., is No. 2 as a top destination for vacations, it really wasn't much of a favorite when it came to raising a family – probably due to exorbitant living costs. Our findings also show that people would rather retire in San Diego than raise a family or visit on vacation.
Portland, Ore., was the third favorite when it came to families and retirement, and Anchorage, Alaska, was No. 3 for vacation. Whether you're looking for a wild adventure or wanting to get closer to nature, it's easy to appreciate the natural beauty of the Last Frontier.
Favorite States and Cities, by Gender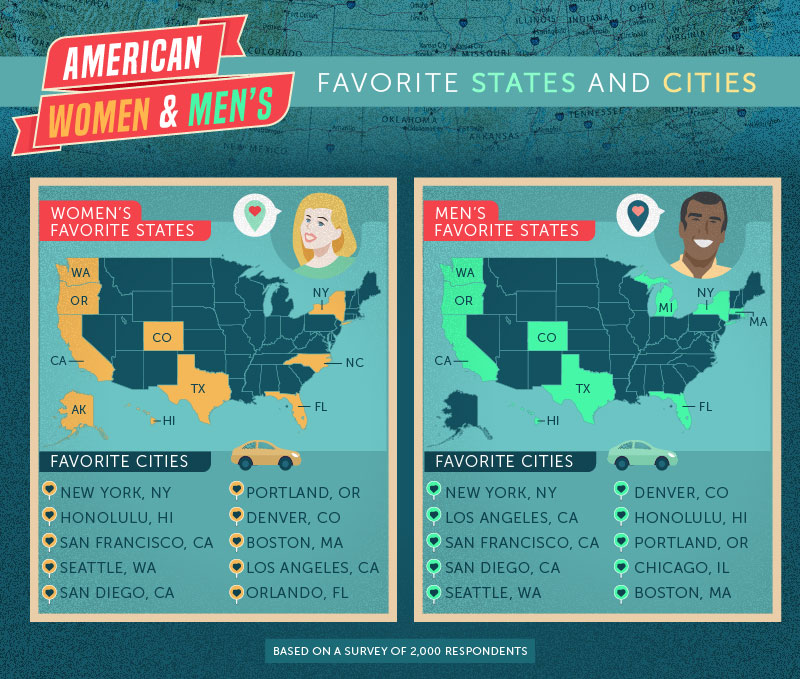 So men and women don't always agree on everything. But does that necessarily apply to favorite cities and states? According to our findings, men and women may be more in sync than you originally thought. For favorite states, both men and women agreed that California was in a league of its own. Even when it came to cities, New York City was No. 1 for both genders. Both California and New York City have a lot to offer, so it's not hard to see why men and women would like them equally.
However, when it comes to the No. 2 spot for favorite states, paths begin to diverge. Men are more inclined toward adventurous Colorado, while women are probably dreaming of the warm rays and gentle waves of Florida. As for cities, men favor the hustle and bustle of Los Angeles. Women, on the other hand, can't get enough of the beach – Honolulu was their No. 2 choice.
Favorite States and Cities, by Generation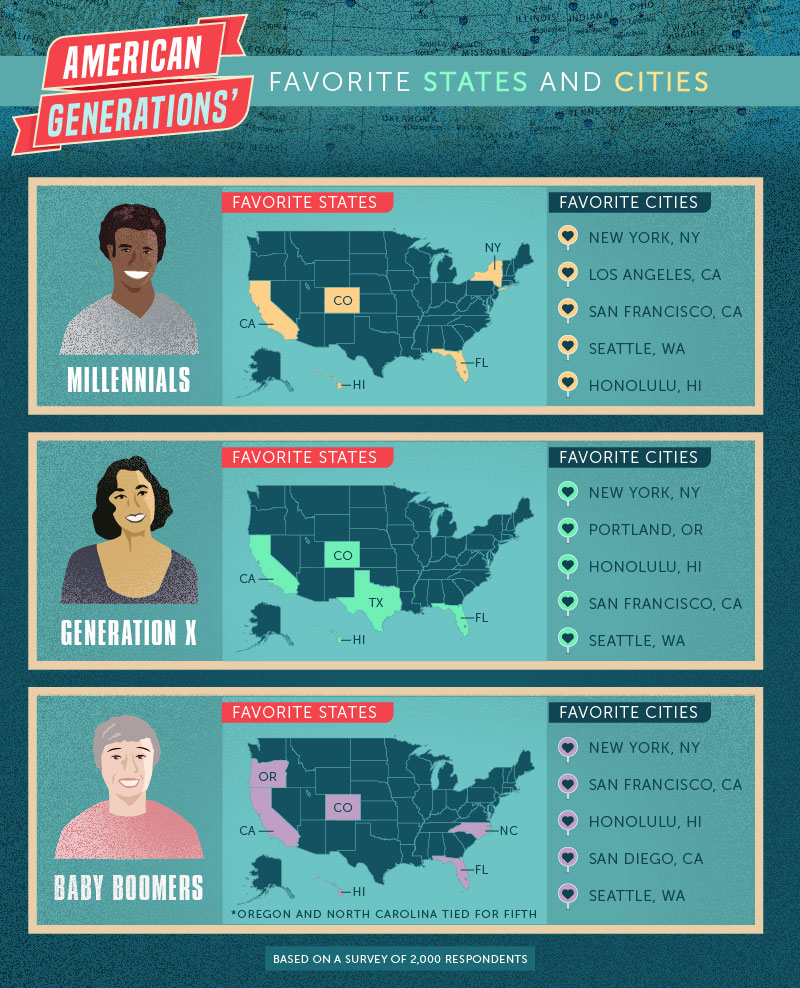 Here's another surprise: Different generations also agree on their favorite cities and states. In fact, California should be considered an "evergreen state" because it has yet to go out of fashion – Millennials, Gen Xers, and baby boomers all claim it as No. 1. And with so much class and culture, New York, N.Y., is on their radar as well. Even Hawaii seems to be appreciated by all.
Unfortunately, though, when it comes to other favorite states and cities, an obvious age gap appears. Millennial respondents prefer Colorado over Florida, while Gen Xers would rather go to Portland, Ore., than to any city in California. Finally, baby boomers can't decide between North Carolina or Oregon.
According to Virtuoso, when it comes to traveling, generations do differ. Gen Xers tend to enjoy Sun Belt spots (Orlando and Los Angeles), and anything that will accommodate their growing families. Millennials, on the other hand, prefer to travel with friends and enjoy unique experiences. And when it comes to baby boomers, favorite destinations usually coincide with retirement.
Favorite States, by Region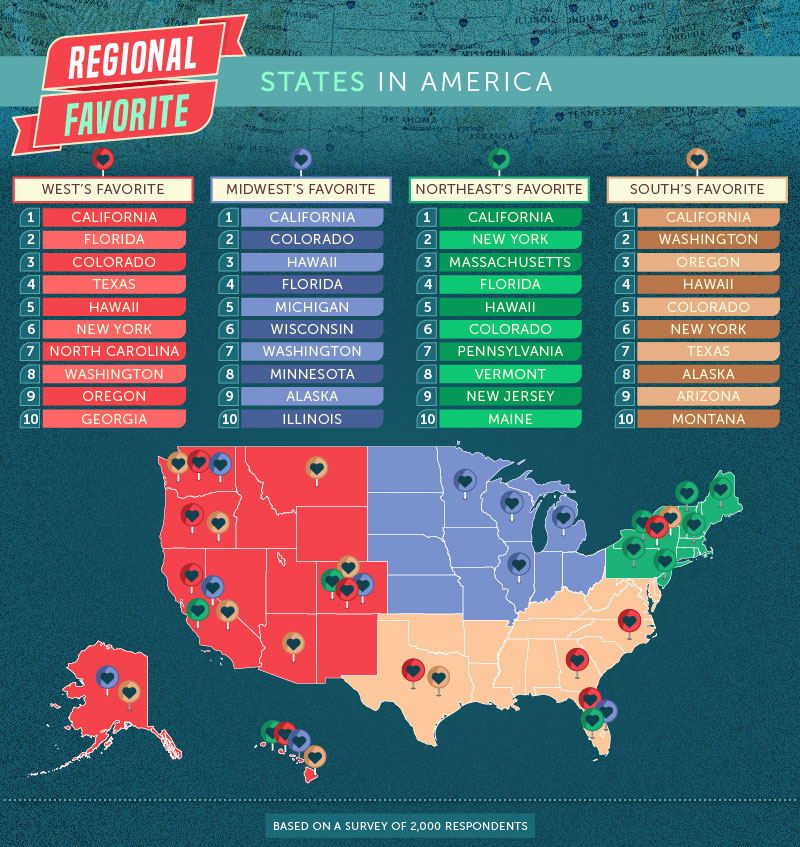 From the looks of it, the entire U.S. loves California, Colorado, and Hawaii. In fact, when it comes to favorite states by regions, the entire country is rich with love for the Golden, Centennial, and Aloha States. Survey respondents from the South, Northeast, Midwest, and West all picked these states as their favorite.
Other favorites, however, differ greatly. Those in the South chose just as many Western States as ones in their own region, while the West only chose two states outside of their region: Texas and New York. Three out of the four regions chose New York as a favorite, but the Midwest had other favorites, like Alaska.
Favorite Cities, by Region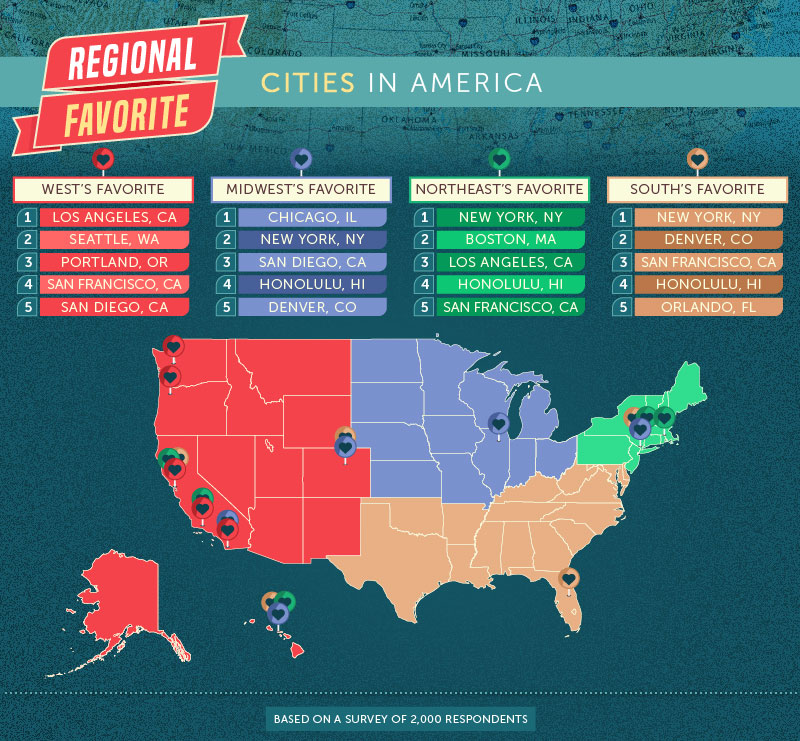 Finally, survey respondents from all regions seemed to agree on their favorite states, but not their favorite cities. Those in the Eastern Time Zone can agree that New York City rocks, but those in the Midwest and West are showing preference to cities near them – Chicago, Ill., and Los Angeles, Calif.
Most notable, though, is the fact that survey takers in the West all chose favorite cities in that region. The South, Northeast, and Midwest, on the other hand, have chosen cities that span the U.S. In fact, every region except the West chose Honolulu and New York City as one of their favorite cities.
Conclusions: Find Your Own Favorite City or State
As our survey shows, some states are just naturally more popular than others (brings back memories of high school, right?). The most popular state, by far, seemed to be California. Not only did people associate it with sunshine and warm weather, but if the opportunity arose, they would move there in a heartbeat – even to raise a family or retire. It was not only a favorite across all regions in the U.S. but among three generations and both genders too. As for cities? New York City and Honolulu were top choices.
While it's usually not a good idea to just follow the crowd, you might want to listen to what our respondents have to say. If you're looking to enjoy a nice vacation, raise a family, or even retire, California, New York, and Hawaii might be good places to check out first.
Sources
Fair Use Statement
By all means, feel free to share the graphics above. Please be considerate of the author, though, by linking back here.